This is an update of the Daily EUR/USD regarding the long term downtrend on the EUR/USD I am predicting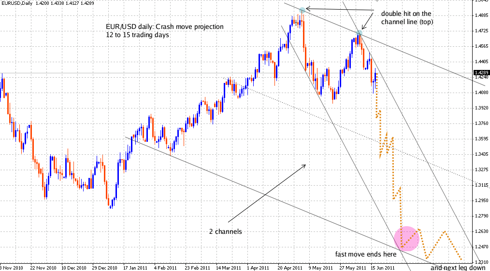 What do we have here?
2 possible channel alignments. We did a double hit on the upper channel line, and retraced a lot, so I take it as a signal that a long term top on the daily has been made and now a downtrend has started. The week closed as a doji, it also favours the downtrend.
Now, according to the long term head and shoulders pattern discussed previously, the trading of the right side of the HEAD should be impulsive, this is why I am lookng for a selloff of such magnitude, it is estimated to happen in 12 to 15 days,   would be the size of 2,000 pips and it corresponds to the dollar index of 85. All my previous analysis was pointing that 84 would be the top, and 82-84 is a small trading range where market should trade a brief consolidation before moving higher, so it matches this channel alignment perfectly (because every dollar point the euro moves 220 pips, current dollar index of 75.50 + (2000/220 =9) = 84.50)
This move has to start right on sunday, or at least on monday, if it doesn't I will have to cancel everything and probably the 12 to 15 day will be another top, however I don't see how can it make another top and go down 2,000 pips after that, probably the long term dollar move will be have to postponed for a year or something like that.

Have a nice trading.