Quick introduction: Charting the gold's bear market, long term charts
here
Last daily update:
here
I have been waiting all this time for gold to complete the full channel move that now seem to be reached it's top. The channel I have found in July looks good and it is followed almost perfectly. It also resulted to be much wider, so we have been trading past month in the first half of it.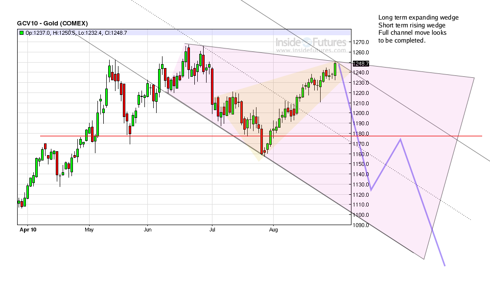 Click to enlarge
On the daily we don't have the top, neither on the weekly or monthly, the top right now is only seen on the channel. So I think gold won't make it about 1250 , or 1252.50 and wednesday or thursday it has to reverse the trend.
I also want to point on a short term rising wedge and a long term expanding wedge, those are bearish patterns.
Medium term gold is going to 1050, and long term (by the end year) it is going to 700 because such rising wedge on the monthly is very bearish.
If strong bounce of the channel is confirmed I expect it to do an A-B-C move to 1050 rather quickly.
Disclosure:
Short gold and silver