Apple has grown its revenue and operating income by 238% and 636% respectively since FY 2006.  That achievement is due to selling more "devices" at increasingly higher prices and margins as well as obtaining "added value" from software, apps, and music.  Thus, the straightforward equations:
        
                Devices Sold times Revenue/Device equals Revenue.
                Devices Sold times Operating Income/Device equals Operating Income.
     
     We'll look at devices sold and operating income/device, a metric no one follows.
     1. Devices Sold
        Apple has been on a tear selling its devices: iPods, iPhones, computers, and iPads.  FY 2006, Apple sold 45 million devices.  This year, the number climbed to 112 million.  The company has been bringing on whole new categories, the iPad and iPhone, moving beyond its traditional computer and iPod business.

 

            (Number of Devices in K units:  for example, 60,000 = 60 million)

     2. Operating income Per Device Sold

      Equally impressive are Apple's climbing operating income per device and net income per device.    Operating income per device rose from $56 in 2006 to $164 in 2010. A large share of the increase has to do with the mix of products sold: an iPhones brings in a lot more cash than one shuffle.  Increasingly, some of this is coming from "added value" sales. For instance, Apple's sale of an iPad doesn't end there; the iPad goes on to generate ads, downloaded books, apps, and music.  Thus, every device creates an earnings stream.  Currently, this production is small but growing.  
        During Apple's most recent quarter, operating income/device blasted to $174.  Here we see the impressive drive: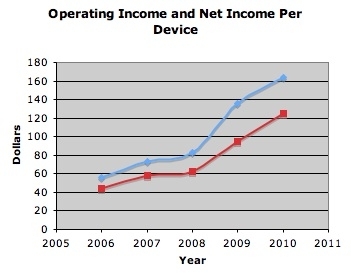 (Blue line represents Operating Income Per Device,
                     Red line represents Net Income Per Device)


      In contrast, despite selling a ton of phones, RIMM lost ground with its operating income/device ratio.  Its number came in at $125 in FY 2007 and dropped to $86 and $94 in FY 2010 and FY 2011 respectively.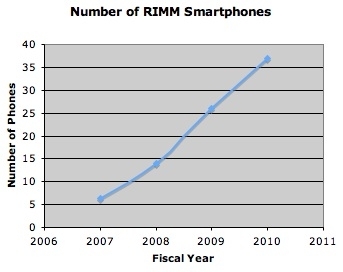 (Number of Phones in Millions)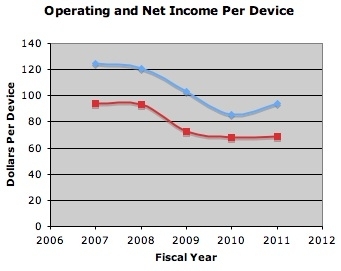 <a:>               (Blue Line Represents Operating Income Per Device,
                        Red Line Represents Net Income Per Device)


                             (FY 2011 YTD: 23 million phones with OID $94)
    
      RIMM has struggled in its OPD and NPD.  It doesn't have Apple's ability of keep average selling prices high.  It doesn't have the cross-selling abilities of Apple.  It doesn't have the Apple ecosystem.          

     Apple will be able to produce more income out of every device it sells. Currently, most of the increasing OPD and NPD has to do with selling higher ASP and margin products.  In the future, these number will accelerate because of  the "added value" of ads, Ebooks, music, or apps that is occurring.  My prediction:  Apple makes $190 and $150 with its OPD and NPD respectively in FY 2011.



Disclosure: Long AAPL No position RIMM

Disclosure: Long AAPL