In this market, the biggest losers have become the greatest winners whether or not they have anything going for them.  Witness Ladish (NASDAQ:LDSH), an aerospace forging company that fell on awfully hard times dropping from $33 to $5.36 in early March.  Not much to like here. Operating margins at 3.1%.  PE for estimated 2009 earnings at 21.2.  Contrast that with industry leader Precision Castparts whose operating margins came in at a dazzling and ever increasing 24.67% (same industry, same conditions).  PCP achieved that number in the face of a Boeing strike taking out over $100 million in revenue.  PCP's PE for estimated 2009 earnings comes in at 11.5.  On the face of the numbers it would seem that PCP would  leave LDSH in the dust and never look back.  The charts over the last 3 months tell a different story.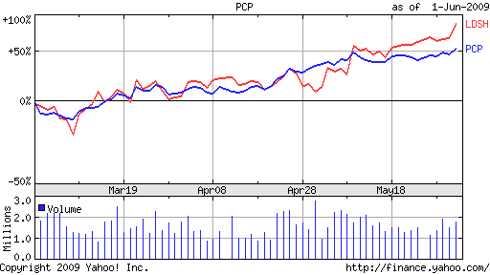 Click to enlarge
LDSH's recent out performance makes sense only when one looks at its prior price action.  It had tumbled far worse than PCP had and, therefore, buyers reckoned, had far greater to climb.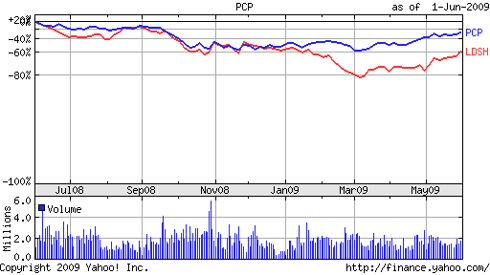 Click to enlarge
This isn't different from how other stocks have performed the last 3 months. Stocks that have been humbled the most have come back the hardest.  The fundamentals often don't seem to matter.  At this point, stocks are in sling shot mode: the farther they've fallen, the greater the rebound.