The E-Mini S&P 500 trended higher Tuesday with a fairly decent range considering today is the Federal Open Market Committee meeting with expectations for a potential QE3! US Housing Starts decreased by 4.8% last month to a seasonally adjusted annual rate of 708,000 according to the Commerce Department. The decrease in Housing Starts may be attributed to a drop in the multi-family housing projects. This area can be extremely volatile! US Building Permits were up to 780,000 showing a rise in new construction projects. It is estimated that every new home built creates three jobs and about $90,000 in taxes!
Monday the NAHB/Wells Fargo Housing Market Index increased by one point to 29, but is still pretty far off the 50 mark! The current decreased cost of mortgages and the lower home rates are very appealing for home buyers. The housing sector may have bottomed, but there are still cracks in the foundation.
Current Economic Climate!
· US Wholesale inventories increased 0.6% to $483.5 billion while March increased by 0.3%. US Sales at wholesalers in April increased 1.1%.
· US Trade Deficit narrowed in April with slack growth in both the Euro Zone and China, exports were weak and the sketchy US economy hobbled import demand.
· The trade gap decreased 4.9% to $50.1 billion. Exports decreased 0.8% to $182.9 billion while imports decreased 1.7% to $233.0 billion.
· The last US Unemployment report came in at +69,000 workers, well below expectations for +150,000. The US Unemployment rate is holding at 8.2%.
· The US Institute for Supply Management index of non-manufacturing increased to 53.7, up from April's 53.5. The forecast was for 53.4. Any reading over 50 points to expansion. The portion surveying the new orders increased to 55.5 from 53.5. The portion dealing with prices paid decreased to 49.8 down from 53.6. The price decline may be attributed to lower energy costs. The employment portion of the survey decreased to 50.8 from 54.2.
· US Gross Domestic Product increased at a 1.9% annual rate while last month's estimate was at 2.2%. US Business Inventories increased $57.7 billion. Consumer Spending grew at a 2.7% pace. The US Institute for Supply Management -Chicago reported factory activity decreased to 52.7 in May from the previous reading of 56.2 in April. Of course, any reading over 50 points to expansion.
Anticipation is high that the Fed will extend the current "Operation Twist" which is a program revived from the 60's, where the Federal Reserve sells short-term paper and buys long-term paper in an effort to keep liquidity high and interest-rates low. There is really a great deal of uncertainty even with all the predictions floating about. The recent data has been lackluster pointing to a slackened modest recovery and a delay would get tangled up in the upcoming election.
The Euro crisis may be contained for the moment in that the European Union leaders have met and are focused on a longer-term plan for closer economic integration! Spanish long-term debt yields rose to over 7%, the non-sustainable levels leading the EU to believe that Spain may need a full bailout rather than the initial partial.
In response to global pressures, Euro leaders are considering a federal banking system. This would involve unified banking supervision, a solution committee for the failed banks and a form of security for the depositors to bring money back into the banking systems. Resolve in the European Union is critical to India, China, the US and globally for the health of an integrated world marketplace.
Greece's election resulted in the vote to power of the conservative Antonis Samaras, but he has conveyed that the memorandum of understanding on the $130 billion euro bailout needs modification. He may be looking for an extension of another two years to meet the budget targets of the bailout package. He faces a daunting task in trying to stimulate growth in a country with a 23% unemployment rate, health care almost extinct and a people that need restored confidence!
The next European Union summit is scheduled on June 28th and 29th where more resolves are expected! The US is said to have encouraged China and Germany to spend more in order to stimulate the world economy! China had offered to contribute more money to the International Monetary Fund in hopes that the $43 billion will combat the crisis. Russia, India and Brazil have also offered $10 billion each to counter the potential growth of the debt crisis.
European Union foreign policy chief Catherine Ashton, representing the six great nations of the US, China, Russia, France, Britain and Germany, hit a deadlock in the Iranian talks. The nuclear program that Iran has produces an enriched uranium held at research facilities laying deep within the earth's surface. The secrecy has made it suspect to a potential nuclear missile site. The threat of an atomic bomb has led to increased anxiety especially as Israel is geographically vulnerable to Iran. OPEC nations fortunately have ramped up production of crude oil to counter supply reductions. Still there is potential conflict that remains unresolved!
On the stock side: JP Morgan Chase and Co. (NYSE:JPM) was up 2.20 % to $35.38. Citigroup Inc. (NYSE:C) was up 3.34 % to $28.47. Bank of America (NYSE:BAC) was up 4.51 % to $8.11. Alcoa Inc. (NYSE:AA) was up 2.30 % to $8.89. Boeing Co. (NYSE:BA) was up 1.51 % to $72.99. Caterpillar Inc. (NYSE:CAT) was up 2.32 % to $88.75. General Electric Co. (NYSE:GE) was up 1.27 % to $20.00. Halliburton Co. (NYSE:HAL) was up 1.54 % to $29.41. Hewlett Packard Co. (NYSE:HPQ) was down 1.14 % to $20.81. SPDR Select Sector Fund - Financial (NYSEARCA:XLF) was up 1.61 % to $14.49.
E- Mini S&P 500 Chart.
(click to enlarge)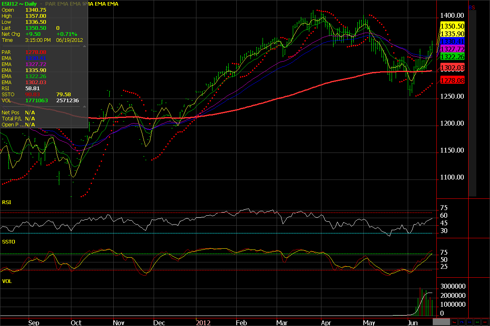 Click to enlarge
Wednesday, what to expect! We maintain a bullish bias unless the (September) E-Mini S&P 500 penetrates $1284.50! Today, we anticipate an inside to higher or outside day! Tuesday's range was $1357.00 - $1336.50. The market settled at $1350.25. Our comfort zone or point of control for this market is $1347.50. Our anticipated range for Wednesday's trading is $1363.50 - $1326.50.
Disclosure: I have no positions in any stocks mentioned, and no plans to initiate any positions within the next 72 hours.