The E-Mini S&P 500 trended lower Tuesday on the culmination of Euro contagion fears magnified and less than stellar earnings! U.S. "Flash" Purchasing Managers' Index decreased to 51.8 in July from 52 in June. Of course, anything over 50 points to expansion but never-the-less this was a set-back! The output index decreased to 52.2 in July from 53.4 in June. The new orders index decreased to 51.9 from 53.7 in June.
The Richmond Fed's Survey of Manufacturing Activity decreased or contracted to -17 when expectations were for an increase to 0. Economists are concerned that the first quarter rate of growth in the US of 1.9 % may slip to 1.5 % according to the latest surveys. US GDP is slated for this Friday morning!
Apple reported revenue under expectations driving it down 4.8% to $572.12. United Parcel Service was down 4.6% to $74.34 which pressured the transportation sector as well. AT&T Inc. was down 2.1% to $34.63. Whirlpool Corp. was down 7.5% to $62.25. Cisco Systems Inc. was down 5.9% to $15.12. Texas Instruments Inc. was down 0.9% to $26.57. Of the companies that make up the S&P 500, 145 companies have reported with 66.9 % exceeding analyst's expectations.
The Markit CDX North America Investment Grade Index increased 2.3 basis points to 115.7 basis points which may act as a barometer of credit-default swaps to hedge against losses of corporate debts. The Chicago Board of Options Exchange Volatility Index (VIX) was up 8.8% to 20.26. US Federal Chairman Ben Bernanke has referenced the "fiscal cliff" at year's end when income tax cuts from the Bush era are due to expire. The automatic spending cuts of about $1.2 trillion are to kick in on January 2nd unless the House of Representatives are unable to extend them.
The lack of action may actually propel the US into a government imposed recession! The dour data has emerged further talks of potential QE3 at the next FOMC on July 31 to August 1 or possibly in September!
The Euro Zone seems to be going around in a circle of debt problems that cannot be resolved any time soon! The Greeks still have failed to adhere to austerity measures after the election and after the bailouts and bridge money to suffice until the next bailout. The European Commission, European Central Bank and the IMF are in Greece to decide whether to add the $130 billion euro rescue or simply plan an exit from the Euro Zone.
An exit would create total havoc as Moody's credit rating agency expressed as they cut Germany's credit rating outlook to negative. Greece has a contracting economy by about 7% in 2012 and has been in a recession for some time. A ray of hope may be in mining! Eldorado Gold Corp. has asked for approval to go ahead with a gold mining project in Northern Greece which has been approved. The judges thought the project beneficial to Greece.
Typically, Greece relies on tourism which currently is down substantially. The company plans to invest about $1 billion in Greece over the next few years. Germany has shouldered much of the Euro Zone debt as country's such as Greece, Ireland, Portugal and recently Spain have asked for aid. The Spanish 10-year bonds have hit non-sustainable levels of 7.6 % yields at auction. The European Central Bank meets again August 2nd.
On the stock side: JP Morgan Chase and Co. (NYSE:JPM) was down 0.13 % to $34.40. Citigroup Inc. (NYSE:C) was down 1.21 % to $25.03. Bank of America (NYSE:BAC) was down 0.85 % to $7.03. Alcoa Inc. (NYSE:AA) was down 1.35 % to $8.03. Boeing Co. (NYSE:BA) was down 1.67 % to $71.69. Caterpillar Inc. (NYSE:CAT) was down 0.97 % to $80.79. General Electric Co. (NYSE:GE) was down 1.44 % to $19.80. Halliburton Co. (NYSE:HAL) was down 0.67 % to $31.30. Hewlett Packard Co. (NYSE:HPQ) was down 1.97 % to $17.94. SPDR Select Sector Fund - Financial (NYSEARCA:XLF) was down 0.91 % to $14.13.
E- Mini S&P 500 Chart.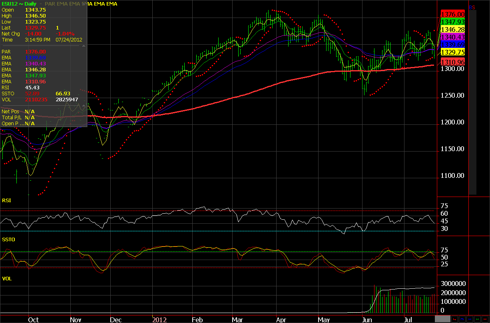 Wednesday, what to expect! We maintain a bearish bias unless the (September) E-Mini S&P 500 penetrates $1375.00! Today we anticipate an inside to lower day! Tuesday's range was $1346.50 - $1323.75. The market settled at $1329.50. Our comfort zone or point of control for this market is $1336.25. Our anticipated range for Wednesday's trading is $1338.50 - $1311.50.
Disclosure: I have no positions in any stocks mentioned, and no plans to initiate any positions within the next 72 hours.