The E-Mini S&P 500 failed again to breach $1400.00! The last time we broke out above $1400.00 was May 1st, leaving a psychological barrier. If penetrated, buying momentum could possibly take the market up substantially while failure leaves the market vulnerable to a deep slide with light volume. Friday's jobs report of 163,000 new jobs created buoyed the market through today's session while there were no major US reports due out. Knight Capital Group Inc. (NYSE:KCG) succumbed to a glitch that took its toll on the company last week, but a $400 million deal with a group of investors may support the company. Out of the 411 S&P 500 companies reporting to date, 67.4% have exceeded expectations. US Steel was up 5.6% to $22.94. Newmont Mining was up 3.3% to $46.12.
The Federal Reserve released information that the larger companies were assessing credit readily while the small business owners were having difficulty. There was some easing on both auto and credit card loans with better demand on mortgages. Investors still await the next Fed meeting for further clues on potential easing. The E-Mini S&P 500 could stay in a range under $1400.00 for a few days before breaking out of the channel, be vigilant with stops.
European Central Bank President Mario Draghi has disclosed a possible bond-buying initiative on the short-term bonds to lower borrowing costs! Spanish 10-year bonds were at 7.02%, still a non-sustainable level while the Italian 2-year bonds were at a lower 3.00%. A great deal of optimism and belief in the European Central Bank action is riding in the marketplace. Spain has not officially requested a full-blown bailout, so the initial knee-jerk reaction in the market may be lower. If Spain does require the full bailout, then the European Central Bank perhaps can step into action.
Of course the European Central Bank will only act under the rescue required austerity measures. The troika returns to Greece in September with a decision regarding further bailout funding. Greece has been taking steps to privatize some of their facilities. Their state-owned natural gas company, their betting firm OPAP, the old Athens airport and some government buildings will be up for sale. The additional revenue of perhaps $50 billion euros was hoped for to aid the indebted country and qualify for the bailout terms. The European Union is putting together a fund to aid the country's that are hit by the fiscal shockers such as export fluctuations or weather disasters. They expect the fund to be ready by 2015.
On the stock side: JP Morgan Chase and Co. (NYSE:JPM) was up 1.11 % to $36.50. Citigroup Inc. (NYSE:C) was up 3.94 % to $28.48. Bank of America (NYSE:BAC) was up 2.29 % to $7.60. Alcoa Inc. (NYSE:AA) was up 1.43 % to $8.49. Boeing Co. (NYSE:BA) was up 0.48 % to $73.16. Caterpillar Inc. (NYSE:CAT) was up 1.81 % to $86.56. General Electric Co. (NYSE:GE) was up 0.67 % to $21.106. Halliburton Co. (NYSE:HAL) was up 0.68 % to $33.99. Hewlett Packard Co. (NYSE:HPQ) was up 2.57 % to $18.73. SPDR Select Sector Fund - Financial (NYSEARCA:XLF) was up 0.64 % to $14.91.
E- Mini S&P 500 Chart.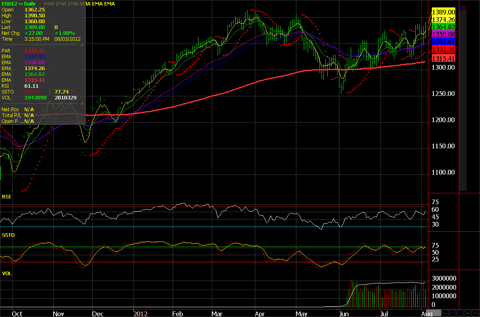 Tuesday, what to expect! We maintain a bullish bias unless the (September) E-Mini S&P 500 penetrates $1335.75! Today, we anticipate an inside to higher day! Monday's range was $1395.75 - $1387.25. The market settled at $1390.25. Our comfort zone or point of control for this market is $1391.50. Our anticipated range for Tuesday's trading is $1397.50 - $1387.50.
An ounce of practice is worth more than tons of preaching.
~Mahatma Gandhi~
Disclosure: I have no positions in any stocks mentioned, and no plans to initiate any positions within the next 72 hours.