Credit markets are showing strength and stability while equities swoon. This divergence usually leads to a great buying opportunity in equities. Historically (since 2007), credit market behavior has been the single best leading indicator of equity and commodity prices.
So, here we are again in the midst of an October sell off and the question on every investors mind is the typical "will this be the beginning of a real market decline". The answer to this conundrum often gets overly confusing when one mixes the lethal combination of CNBC commentary, Wall St. Journal stories and political hype. However, the riddle can best be attacked when using just two simple factors. Allow the noise to die away and join me for a comfortable cruise on the river of reality.
Simple Factor Number 1: Credit
Rosenthal Investing Axiom: If credit markets are stable and or getting tighter (positive) then equity market weakness can be discounted. Look for buying opportunities in equities if this divergence persists.
MJ Credit Guru: 10/25/12 - The CDX IG19 Index flirted with the idea of trading through 100bps before stabilizing. The index is trading tighter this morning, and we remain convinced that the index is not going to trade wider than 100bps unless the market is forced to deal with an "unexpected event that causes systematic risk" to increase. This is why we believe a weak corporate earnings season could cause us to trade below 1400 (S&P 500), but only marginally below 1400, and only for a short period of time. The lack of a "negative systematically important trend" makes it unlikely that corporate investors are going to want to pay high short carry costs or that banks will walk away from fees associated with financing distressed companies or high leveraged companies.
Simple Factor Number 2: The US Dollar
Rosenthal Investing Axiom: US$ direction leads equities / commodities. Study and understand the price chart of the US$ and you will have solid insight into the direction of risk assets.
For proof of this Axioms validity, look no further than our August 3rd Post titled, "The U.S. Dollar: A Classic Breakdown in Price" This post outlined in detail the pending breakdown in the US$ and explained the positive correlation for commodities and equities. August and September turned out to be great months for risk assets as prophesied.
A look at the price chart of the US$ ETF (NYSEARCA:UUP) now may again be helpful. This time we will try to gauge the strength and severity of this most recent equity / commodity sell off…
(click to enlarge)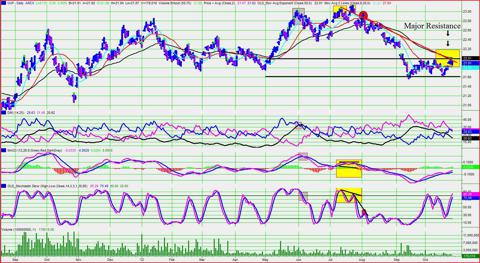 Click to enlarge
As you can see above, the breakdown from the August high reached a low of $21.60 in September and the US$ has since traded in a sideways range. This sideways volatility between $21.60 and $22.00 has led to confused trading for risk assets. And the recent surge in UUP up to the resistance area highlighted for your convenience in yellow has drive the various equity indices down to key areas of support.
To conclude, the picture today is not as crystal clear when analyzing the US$ behavior as it was in early August. However, I feel comfortable going out of a limb and saying that if Credit markets continue to evidence signs of strength and stability then I don't believe the US$ (UUP) will break above the key $22.00 area of resistance. The resistance area is the confluence of three key analytic tools: The strong downward trending 50 day moving average (thin Black line), the downtrend line in place since the August high (red line), and the top of the recent consolidation range (black line).
We will continue to monitor the credit markets and the US$ and update our thinking here when the need arises. Should you wish for more acute analysis please feel free to follow me on twitter https://twitter.com/BretRosenthal