Ventnor Resources (ASX: VRX) continues to deliver outstanding results from the highly prospective Thaduna/Green Dragon project in Western Australia, and today has impressed with the highest grade intersection to-date.
Diamond drill tail THRC220 discovered; 15 metres at 5.49% copper, including 9.16 metres at 8.57% copper from 497 metres down hole.
The results also support the visual indications reported from the deep drilling program last month, and confirm an intersection of strong bornite mineralisation over 11 metres.
Importantly the drilling provided confirmation of continuity of the high-grade shoot, with Ventnor to continue with further deep drilling at Thaduna early in the New Year.
Bruce Maluish, managing director, said the latest assay results confirm the best diamond core intersections from the project, including the single highest grade received to date.
"This intersection confirms that we now have continuous copper mineralisation from surface to approximately 440 vertical metres below surface, and supports our understanding of the mineralisation profile and structural controls of this typical hydrothermal copper mineralised system," Mr Maluish said.
"We don't believe this is an isolated intersection and expect this style of mineralisation to continue down plunge."
Drilling is still underway into this zone and these drill results will underpin a resource below the expected open cut pit, to be accessed by underground mining.
Drilling program
Ventnor will take a break from drilling for Christmas from mid-December 2012, and will recommence mid-January 2013 when a further six holes have been planned to be drilled into the high grade shoot.
Drilling to date at Thaduna has comprised 221 reverse circulation holes for 29,041 metres with 62 Diamond Tails for 12,348 metres, totalling over 30,000 metres.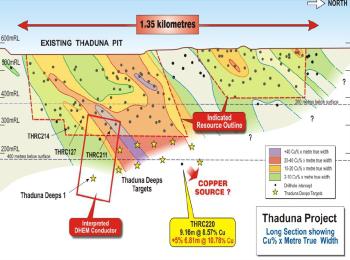 The long-section above clearly shows the significance of the intersection in THRC220. Not only is the intersection over 130 metres vertically below the indicated Resource limits.
It contains the single highest grade assay to date at the project, namely 0.74 metres at 17.15% copper and 46.8g/t silver from 499.5 metres, and is the highest grade +1% intersection drilled at Thaduna: 9.16 metres at 8.57% copper and 27.2g/t silver.
In terms of copper metal THRC220 returned around 90 copper per cent by metres, which is significantly higher than was indicated from the drilling up dip.
Analysis
It was only just over a month ago when Ventnor inked a maiden JORC resource of 101,413 tonnes of contained copper at Thaduna/Green Dragon, which is set to be upgraded in the March quarter of 2013.
The upgrade will be a price driving catalyst for Ventnor - and the upgrade could be a sizeable one considering the since the cutoff date for the resource the company has generated an additional 15 infill and extensional intersections.
These intersections will be used to generate an updated resource model, which will include holes such as THRC220 (from today) and extend the resource below 450 metres vertical.
Not to be forgotten - there will be new deep drilling results in the area of today's highest grade intersection to date, and if the impressive results continue - then the current $0.48 share price will be a thing of the past with the potential very high for a positive upside re-rating.
Ventnor remains well-funded with close to $4.6 million in cash at the end of September 2012.
Proactive Investors Australia is the market leader in producing news, articles and research reports on ASX "Small and Mid-cap" stocks with distribution in Australia, UK, North America and Hong Kong / China.