Phoenix Gold (ASX: PXG) has extended mineralisation at its Castle Hill Stage 2 deposit in Western Australia to the north, east and at depth after completed the second phase of drilling and assaying.
Notably, an independently verified Resource update is expected in the current Quarter.
Significant intercepts from the 22 reverse circulation holes totalling 2,057 metres drilled in February and March include:
- 7 metres at 8.5 grams per tonne gold from 139 metres;
- 71 metres at 1.2g/t gold from 179 metres;
- 5 metres at 9.9g/t gold from 72 metres; and
- 9 metres at 5.5g/t gold from 36 metres.
"These latest results clearly demonstrate the potential of the second stage of this emerging Castle Hill gold camp and we are only just beginning to scratch the surface," managing director Jon Price said.
"The project is certainly exceeding all of our expectations and I look forward to seeing the updated geological model once signed off by our independent consultants in the June Quarter.
"Castle Hill Stage 2 is shaping up as the second large scale open cut development within this large stock work system and I believe there is plenty of upside as we progressively move towards our interim exploration target of 4 million ounces by December 2013."
Drilling is continuing at Castle Hill with 4 rigs at Stage 1 completing a major infill program to enable conversion of Inferred material to Indicated and to add the extensional drilling data to the JORC resource.
In addition, follow up drilling is nearing completion surrounding the large intercept of 94 metres at 2.6g/t gold reported in January 2013. These results are expected to be completed during May.
Castle Hill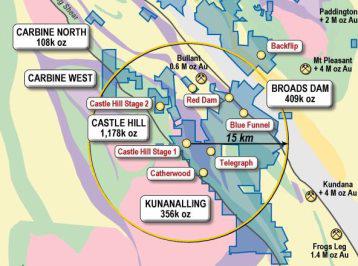 The structural setting of the Stage 2 deposit - located less than 10 kilometres north of Stage 1 - is an ideal host for mineralisation, as shown by the number and tenor of the significant intercepts returned from the Company's drilling program.
The brittle tonalite, intruded into the mafic and ultramafic package, has developed a complex pattern of faulting and shearing which was observed during both logging and mapping.
Gold mineralisation at Kintore is widespread and apparent in a variety of settings. Complexity of the regolith and weathering profile has the potential to mask mineralisation and contribute to zones of gold enrichment.
Primary mineralisation is associated with quartz veining, pyritic disseminations and silica alteration within the tonalite
Phoenix's wholly-owned Castle Hill project is located on the highly prospective Kunanalling shear zone in the heart of the Western Australian Goldfields less than 50 kilometres from the regional mining centre of Kalgoorlie.
The resource currently stands at 23.54 million tonnes at 1.6 g/t gold for 1,178,000 ounces though recent exploration successes are likely to result in a substantial upgrade.
Phoenix has also recently engaged key independent specialist technical consultants to assist with the $1.5 million Definitive Feasibility Study for both the Castle Hill and Broads Dam projects.
Broads Dam has a current Resource of 5.81Mt at 2.2g/t gold for 409,000 ounces.
The DFS is due for completion in December 2013 to enable a final investment decision to commence mine development and process plant construction in early 2014.
It follows up on a Conceptual Mining Study completed in October 2012 that demonstrated a robust and highly profitable project centred on Castle Hill and Broads Dam.
The CMS delivered strong returns over a 5 year period with production rates between 100,000 - 120,000 ounces per annum with a total cash cost of $900 to $950 per ounce and a capital estimate for the 2 million tonne per annum CIL processing plant at $110 million.
Analysis
The drilling results from Phase 2 drilling at Castle Hill Stage 2, further increases the likelihood of an upgrade in the updated resource to be released in the current quarter.
This in turn has the potential to improve the economics of the project, making a development decision early next year all the more likely.
Phoenix also remains fully funded for its activities beyond the investment decision with $20 million in cash as of 31 March 2013.
The cash represents about 38% of its current market capitalisation of $52.87 million.
Proactive Investors Australia is the market leader in producing news, articles and research reports on ASX "Small and Mid-cap" stocks with distribution in Australia, UK, North America and Hong Kong / China.