Peak Resources (ASX: PEK, OTCQX: PKRLY) has achieved a significant milestone on the road to commercialising the wholly-owned Ngualla Rare Earth Project in Tanzania, following the production of two refined rare earth products.
Ngualla is on track to become the next major rare earth supplier with high grade mineralisation and a simple, proven metallurgical process supporting a low cost operation.
These products were produced at ANSTO Minerals (Australian Nuclear Science and Technology Organisation), and importantly are in a saleable form and available for evaluation by target customers.
The rare earth products completed to date are:
- An ultra-high purity (99.9%)* mid and heavy rare earth oxide (M+HREO).
- A high purity (>99%) rare earth carbonate with a grade of 56% REO.
The work includes the first of four separated high purity rare earth oxide products from the Solvent Extraction (SX) Pilot Plant now in operation at ANSTO.
Peak said that the SX Pilot Plant work is progressing well with three additional separated rare earth oxide samples to be produced over the coming months, including a high purity didymium oxide (a neodymium - praseodymium mix) sample which is expected in June, followed by cerium oxide and finally a lanthanum oxide.
Alastair Hunter, chairman for Peak, commented: "The successful production of these products of such high quality is an achievement very few other companies have made and we are hopeful they will exceed the expectations of any future off take customers.
"This work is well within the required specifications and demonstrates Peak's commitment to drive the development of the Ngualla Project forward."
Ngualla is a leading rare earth project with an estimated NPV of US$1.57 billion and pre-tax IRR of 53% for an initial 25 years production and an average grade of 4.35% REO.
Peak continues to fast track the development of Ngualla with the aim of becoming a low cost, long term producer of high purity rare earth oxide products in 2016.
Technical Report
Two high purity rare earth products have been produced at ANSTO Minerals from a 1.3 tonne bulk sample of weathered Bastnaesite Zone mineralisation from Ngualla using the simple sulphuric acid leach recovery process:
1. The first of four separated products - a mid and heavy rare earth oxide mix (M+HREO) - has been produced by the SX Pilot Plant currently in operation.
2. A high purity rare earth carbonate has also been precipitated from the feed chloride solution and assayed.
Both samples are available for assessment by potential off take customers.
Mid and Heavy Rare Earth Oxide
The SX Pilot Plant has successfully produced its first product - an ultra-high grade mid and heavy rare earth oxide. Peak added that with a purity of 99.9% REO this product (MAIN PICTURE) is expected to exceed the requirements of off take customers.
This product is a mix of samarium, europium, gadolinium, terbium, dysprosium, holmium, erbium, thulium, ytterbium, lutetium and yttrium as oxides. This high value M+HREO product is expected to contribute approximately 23% of the total value of Ngualla's rare earth production as defined by the December 2012 Scoping Study.
Value drivers for Ngualla are the Nd/Pr Oxide and Mid+Heavy high purity oxide products. These include the higher value 'Critical RE's' forecast to be in undersupply. 75% of the projected annual revenue as identified in the Scoping Study will be derived from the two high purity products.
The lower value cerium and lanthanum oxides are relative by-products at only 25% of the total revenue.
Rare Earth Carbonate
Following the successful verification of the acid leach recovery process at ANSTO which was announced earlier in the year, a high purity mixed rare earth carbonate has been produced.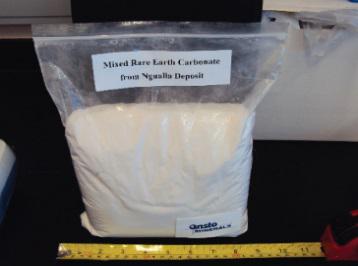 PICTURE: High purity (99%) mixed rare earth carbonate (56% REO) produced from Ngualla feed mineralisation at ANSTO Minerals.
The carbonate was precipitated directly from the rare earth chloride solution (Figure 1) used as the feed for the SX Pilot Plant which was produced from a bulk sample of Ngualla mineralisation.
Peak said that assay results of this carbonate have now been received and indicate a high purity (>99%) rare earth carbonate with a rare earth content of 56% REO and less than 1% impurity metals present. Most importantly, the radioactive elements, thorium and uranium, are extremely low, being below detection limits.
Pre-Feasibility Study underway
The Pre-Feasibility Study now in progress will assess the potential benefits of locating the beneficiation and acid leach recovery process units at the Ngualla mine site and the solvent extraction separation plant located off site, closer to infrastructure, utility and port facilities.
In this case, an intermediate mixed rare earth carbonate concentrate would be produced on site at Ngualla to be efficiently transported in this inert, high purity form to the solvent extraction plant for the production of the separated rare earth oxides.
The purity of the carbonate and absence of radioactive elements indicate that no special permits will be required for the handling or transportation of this intermediate product from Ngualla to the separation plant.
Peak also retains the option to sell some of this high purity rare earth carbonate product directly to a third party for separation and samples are available for evaluation by potential customers.
Proactive Investors Australia is the market leader in producing news, articles and research reports on ASX "Small and Mid-cap" stocks with distribution in Australia, UK, North America and Hong Kong / China.