International Coal (ASX:ICX) holds a binding agreement to earn up to 71% interest in the Consuelo Project from Coal Face Resources Pty Ltd, which retains the minority 29% interest. Coal Face is controlled by Jason Moultrie who is a leading coal geologist that provides specialist mining services Australia-wide through the Moultrie Group. This partnership provides a strong platform for development of Consuelo.
Recommendation: Speculative Buy
ASX Code: ICX
Share Price: $0.077
52 Week High: $0.195 Low: $0.077
Issued Ordinary Shares: 132.1M
Options: 41.7M
Market Cap: $10.1M
Cash: $1.7M (with R&D claim)
Enterprise Value: $8.4M
Key Points
- International Coal has re-set priorities with Consuelo and the Bundaberg JV with Hancock Prospecting emerging as the two key exploration and development projects
- Unlike most juniors, ICX's projects have ready rail/port options
- The Consuelo Coal Project is located in a premier coal producing location within the Bowen Basin in Queensland
- Consuelo is located south-east of Glencore Xstratas' Rolleston Mine and abuts Bandanna Energy's Arcadia Deposit
- Rail and port options are considerable for Consuelo which is prospective for high quality thermal and semi-soft coking coal
- An Exploration Target of 800 million to 1.7 billion tonnes has been estimated across the tenements within the Consuelo project area
- Crystallising of a rail option with Aurizon would add to market value. Proactive Investors understands that there is currently ample capacity on this rail line that ICX could utilize
- The Bundaberg JV Project, with Gina Rinehart's Hancock Prospecting holds promise, and with current drilling underway the current resource of 28.5MT of hard coking coal should be expanded
- Early exploration at Bundaberg found clean coal composite results returned crucible swell numbers (CSN) between 8‐9
- Bundaberg project could also have port options at Bundaberg
- Drilling at Bundaberg has commenced. We consider the project to be a "sleeper" in terms of value attributed to ICX market cap but can add significant value to ICX
- The focus is on developing metallurgical/coking coal projects to meet growing demand from Chinese steel mills
- We would expect to see these discussions gain in intensity with commencement of the new exploration program at Consuelo
- The capitulation of the share price of ICX is over-done. It has fallen on relatively low trading volume in a sector that has been over-sold
- The "re-setting" of ICX to two key projects is accomplished and has been over-looked by the market
- ICX is currently priced by the market at a valuation which completely disregards milestones achieved in the past 12 months
- We expect upcoming exploration news flow from Consuelo (and Bundaberg to a lesser extent) to re-ignite interest in ICX
- Proactive Investors understands that Guildford Coal and Hancock Prospecting also applied for the Consuelo tenements
- U&C Mining recently acquired Endocoal at a $71 million valuation. Its Meteor Downs South mine, located nearby to Consuelo and on the same rail link will commence low cost production at a rate of 1.5-1.9 million tonnes per year. Meteor Downs is indicative of valuation parameters that attach to coal assets with infrastructure
- Strategic discussions are continuing with Chinese groups, the import of it should not be lost
- On our estimates, we value International Coal at $0.27 - $0.33 with a 12-18 month time line. Speculative Buy.
Background - Flagship Project - Consuelo Project - Bowen Basin
ICX has committed to a multi staged development programme to secure the 71% interest that includes total cash outlay of $6.6 million ($6 million for exploration and development. and $0.6 million as consideration for acquisition). ICX will also issue 25 million shares and 10 million options to the vendors.
The Project area currently includes 2 granted tenements, 1 competing tenement application, and 1 advanced tenement application currently under a native title advertisement period ahead of final grant. The tenements are numbered as EPC2332 (known as Mount Panorama), EPC2318 (Wild Horse Swamp), EPC2925 (Mount Ceres - competing application), and EPC2327 (Christmas Creek - under advanced application). EPC 2327 is progressing through a native title advertisement period which should be completed in January 2014 enabling consideration of grant by the Queensland Government. All of the tenements are in close proximity of one another and cover approximately 402.1 square kilometres within a well-defined area of the Bowen Basin.
Following the recent issue of shares to Coal Face Resources Pty Ltd (NYSE:CFR) and earlier cash payment of $100,000, CFR is has assigned a 20% stake in granted EPC 2318 and 2332.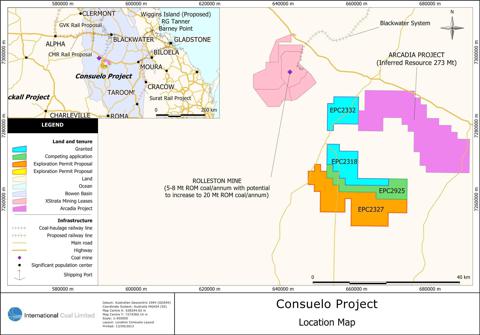 Consuelo Project in Queensland Location
Consuelo is an underexplored area just south-east of Glencore Xstrata PLC's Rolleston Mine and east of Bandanna Energy Arcadia Deposit.
The area has potential for shallow coal and includes a 300 to 800 million tonne Exploration Target at less than 250 metres.
The Bowen Basin contains Australia's largest coal resources and is a world class producer of prime coking coal that is utilised for the manufacture of steel as well as thermal coal for generation of electricity. The Basin has 34 operational coal mines that will extract over 100 million tonnes of coal in the current calendar year.
Consuelo surrounded by major coal projects
The Consuelo tenements are located 10 kilometres to the southeast of the Glencore Xstrata owned Rolleston Mine which hosts coal reserves of 173 million tonnes, with exploration upside. The mine produces 8 million tonnes with potential for 20 million tonnes per annum of thermal coal from shallow open pit operations and ranks in the lowest quartile of Australian coal producers.
Consuelo abuts and is east of Bandanna Energy's (ASX:BND) Arcadia Deposit with a 273 million tonne Inferred Resource.
The project area is also 30 kilometres to the southeast of the Orion Downs South Project that is now owned by U&D Mining Ltd. Orion Downs South has a JORC resource of 51.4 million tonnes and includes a proposed underground mine at Inderi, and a new open pit operation at Meteor Downs South.
The Consuelo project areas contain continuous coal seams that extend for up to 2 kilometres and capture part of the late Permian Bandana Formation found at the Arcadia project, and is directly correlative to the Rangal Coal Measures which are a major source of coking, PCI or Pulverised Coal Injection and thermal coal within the Bowen Basin. The Mantuan Formation is a secondary target.
Nearby rail and supporting infrastructure provides export opportunity
Consuelo is located 4 kilometres south of the small town of Rolleston which has a population of 219, and sits on the junction of the Carnarvon, Gregory and Dawson Highways. A rail line operated by Aurozon is located to the northwest, and extends to Blackwater and then the Port of Gladstone via the Bauhinia spur line. The spur provides access to the nearby Rolleston coal mine which exports production via the 423 kilometre rail link.
All of the Consuelo tenements are within 23 kilometres of this coal haulage rail line that provides access to the Barney Point Coal terminal, RG Tanna Coal Terminal, and the proposed Wiggins Island Coal Terminal.
Discussions have commenced with Aurizon and existing foundation customers for use of the nearby coal haulage line for coal shipments. Crystallisation of these discussions would add considerable value to the ICX share price.
Early tests indicate presence of high quality coal
Early studies indicate the presence of a very high quality raw coal product is present across all tenements and carry calorific values that range 5,900 to 6,210kCal/kg. Studies indicate that washed coal produces a yield of approximately 80%, and a calorific value range of 6,400 to 6,618kCal/kg. Ash content is known to range from 8 to 30%, and carry a moisture range of 3 to 8%.
Conceptual tonnage targets across the Consuelo Project tenements
The Joint Venture partners have established a combined exploration target of 800 to 1,700 million tonnes of open pit and underground coal across the tenement package.
Six significant seams known as X, A, B, C, D, & E are found in the Bandanna formation within the project area. The average modelled thickness of these seams falls into a range of 1.02 to 2.8 metres, and may extend to 6.06 metres. Seismic in the area indicates the package of seams are relatively continuous through the project area with little faulting.
The primary exploration targets are the X-D seams of the Bandanna Formation. A coal exploration target of 300 to 800 million tonnes has been reported above 250m depth across EPC 2318, 2327 and 2332.
A further exploration target of 200 to 300 million tonnes is reported as extending from a depth of 250 to 500 metres in the X to E seams. The Mantuan Formation is a secondary target with an exploration target range reported of 20 to 70 million tonnes across EPC 2318, 2332 and 2327.
Conceptual mine configuration
The primary target is of sufficient size that if even half of the lower range exploration target tonnage is proven and shown to be economic then it may support a substantial mining operation. For example, the Rolleston mine with a 173 million tonne reserve produces around 8 million tonnes per annum and has a mine life reported by Glencore Xstrata PLC at in excess of 20 years without additional expansion.
The vision for the project is to establish an initial open cut operation with secondary and longer term potential inferred for underground long wall production. Upcoming exploration will test the depth and thickness of the seams in EPC 2318 and begin to develop JORC resources to underpin the conceptual vision.
Bundaberg Project - recent drilling upgrades coking coal potential
The Bundaberg Project includes EPC2196, EPC2195, EPC 2194 and EPC 2621 that are located in the Maryborough Basin, a highly prospective region which lies north-east of Bundaberg in Queensland, adjacent to a number of well-established coking coal producers and explorers that include New Hope Corporation (ASX:NHC), Guildford Coal (ASX:GUF), and Fox Resources (ASX:FXR).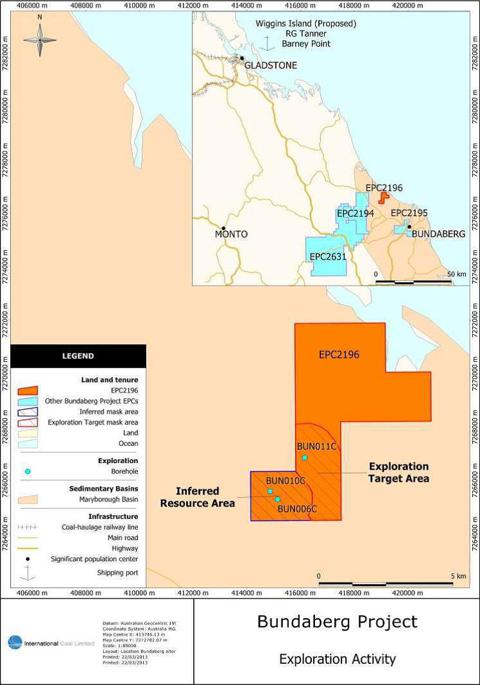 Bundaberg Project in Queensland Location
The project area is part of a Joint Venture with a subsidiary of Gina Rhinehart's Hancock Prospecting which can earn up to a 51% interest in the Bundaberg coking coal project.
Hancock can earn an initial 25% interest through the staged development and expenditure of A$1.5 million and a further
26% interest, through an expenditure of an additional $1.5 million.
In addition to the earn-in payments, Queensland Coal Investments must also pay International Coal $2 million upon attaining the 51% interest in the project.
The hard coking coal project re-commenced drilling in Q3 2013.
Exploration potential exists for delineation of coking coal resources within the Burrum Coal Measures and the Maryborough Formation. A JORC Inferred Resource estimate of 28.5 million tonnes has been identified within EPC 2196 along with an additional exploration target of 20 to 40 million tonnes.
The first drill program completed 11 holes on EPC 2194 and 2196. This programme identified the presence of coal seams between depths of 30 to 428 metres in EPC 2196.
Highlights include borehole BUN006C that contained hard coking coal with a Crucible Swelling Number "CSN" of 9 and less than 11.5% ash over intersections that ranged from 0.66 to 2.63 metres. Similar results were obtained from BUN10C.
Good quality prime coking coal falls within a CSN range of 6.5 to 8.
The Bundaberg JV results which produced average ash of 9.5%, average calorific value of 7,450 Kcal/kg and yields of 50%-65%.
These compare favourably with recognised Bowen Basin benchmark coals and mines at German Creek, Oakey Creek, Peak Downs, Moranbah North, and Saraji which typically produce coal with average CSNs of 8-9, ash 8%-10%, and calorific value of 7500-8000 Kcal/kg.
Port options
The Bundaberg project is also likely to have port options with likely capacity at Bundaberg port potentially available.
While there has not been much news flow on Bundaberg JV project, we believe there is significant value adding potential for ICX, particularly given the involvement of Hancock Prospecting and nearby road, rail and port infrastructure and potential.
Bundaberg JV is a sleeper at present but all this could change with further exploration and news flow.
South Blackall Project
The 100% owned South Blackall project is within the Eromanga Basin and consists of EPC2197 that is located 80 kilometres northeast of Quilpie and covers an area of approximately 786 square kilometres. Infrastructure surrounding the area includes rail and the Diamantina Development Road located 32 km to the south of the tenement area. Minor roads provide access to the tenements and a rail line just south of the project runs to the Port of Brisbane. Part of this rail line is currently used for coal haulage from Miles to the east of the project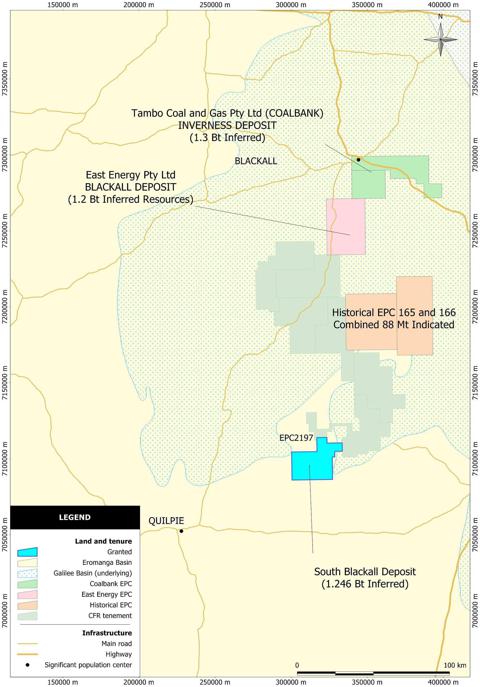 South Blackall Project in Queensland Location
Studies continue on development options for the development of the 1.24 billion tonnes Inferred Resource that has been identified at EPC2197. However, we believe that given lack of current infrastructure options, South Blackall will remain on the back-burner.
Don Juan Project
ICX currently holds a 46% interest in the Don Juan Project that includes EPC2286 and covers132 square kilometres, and is located 80 kilometres northwest of Roma and 110 kilometres to the west of the Wandoan thermal coal project owned by Glencore Xstrata. The province is well known to produce high quality, low ash and high yield thermal coals at open cut depths. ICX will step back from any exploration at Don Juan after removing its exploration commitment for the project.
Coal market
ICX is focussing its attention on the development of coking coal assets at a time of continued softness in international thermal coal markets.
Moody's set its price estimate for the remainder of 2013 for thermal coal ex-Newcastle at $80 to $85 per tonne, and ex-Queensland coking coal at $150 per tonne. Macquarie sees coking coal returning to around $180 per tonne, and reaching up to $200 per tonne by 2015, and will be led by Asian growth.
BHP Billiton which is the world's biggest exporter of coking coal has forecast robust demand for metallurgical coal in the medium to longer term.
Moultrie Group
ICX is firmly aligned with the Moultrie Group after acquiring its key projects. Moultrie is the leading mining services group in Queensland and has over 200 employees, providing exploration and mining services to major and small cap resources companies operating in Queensland, New South Wales and through-out Australia. The partnership provides a platform for project delivery as well as boosting technical oversight of Consuelo.
Catalysts
Timeline for development of Consuelo
- Exploration results Q4 2013 to Q3 2014
- Rail discussions with Aurizon with contracts firmed by Q4 2014
- Pre-Feasibility Studies in Q4 of 2014
- Mining lease application and approval by Q3 of 2015
- Environmental approvals by Q4 of 2015
- Construction from in 2016
- Commissioning and first coal shipment from late 2016 to early 2017
Bundaberg JV with Hancock Prospecting
- Commencement of second stage drilling - underway
- Exploration results
- Current resource of 28.5 million tonnes of hard coking coal is expected to increase
- Depending on successful drill results this project will move to a feasibility study
Chinese strategic investor interest
Valuation - bearish sentiment is overdone
International Coal has what few junior coal companies possess - current rail and port options - in Queensland. This differentiates the company from many of its peers and in itself is value enhancing. On this basis alone, the probability of its projects being developed is increased significantly.
International Coal has issued 132.1 million shares that are priced at $0.077 per share for a capitalisation of $10.1 million. The Company currently holds cash of $1.4million (June Qtr). An R&D claim could result in total cash of around $1.7 million. The Enterprise Valuation of its coal assets is $8.4 million.
This valuation and share price of ICX is priced by the market at a valuation which completely disregards milestones achieved in the past 12 months and value that has been added in terms of coal resources and ongoing development.
We expect upcoming exploration news flow from Consuelo (and Bundaberg to a lesser extent) to re-ignite interest in ICX.
Proactive Investors understands that Guildford Coal (ASX:GUF) [Market Cap: $83 million] and Hancock Prospecting also applied for the Consuelo tenements - indicating the exploration potential of Consuleo.
With strong rail and port options for Consuelo, this differentiates the project and ICX in a sector that caught a valuation down draught that has been over-done. Should discussions with Aurizon bear fruit over rail options, we consider this to be a platform for re-rating of ICX.
The recent takeover of Endocoal by U&D Mining at $71 million is very instructive. Endocoal had JORC compliant resources of 498.5 million tonnes, of which 51.4 million tonnes are located at Orion Downs South. The project includes an open pit operation at Meteor Downs South which is expected to commence production of thermal coal at an annualised rate of 1.5 to 1.9 million tonnes, at a very low cash cost of $29.17 per tonne.
The ICX Consuelo project is located to the southeast of the Meteor Downs South and Rolleston mines that are ranked as amongst the lowest cost producers in Australia.
ICX aims to fast track development of shallow coking coal resources at Consuelo and mimic a similar low cash cost operating structure. Assuming that the Company can meet its resource goals as well as find strategic investor interest, its market valuation is currently is significantly undervalued and provide very significant upside for investors. Interest from Chinese strategic groups should not be under-estimated and provides another catalyst for valuation increase.
On our estimates, we value International Coal at $0.27 - $0.33 with a 12-18 month time line. Speculative Buy.
Proactive Investors Australia is the market leader in producing news, articles and research reports on ASX "Small and Mid-cap" stocks with distribution in Australia, UK, North America and Hong Kong / China.
Disclaimer
You understand and agree that no content published constitutes a recommendation that any particular security, portfolio of securities, transaction, or investment strategy is suitable or advisable for any specific person. You further understand that none of the information providers or their affiliates will advise you personally concerning the nature, potential advisability, value or suitability of any particular security, portfolio of securities, transaction, investment strategy, or other matter. Proactive Investors was not paid for this research note.
You understand that the Site may contain opinions from time to time with regard to securities mentioned in other products, including company related products and that those opinions may be different from those obtained by using another product related to the Company. You understand and agree that contributors may write about securities in which they or their firms have a position, and that they may trade such securities for their own account. In
cases where the position is held at the time of publication and such position is known to the Company, appropriate disclosure is made.
However, you understand and agree that at the time of any transaction that you make, one or more contributors may have a position in the securities written about. You understand that price and other data is supplied by sources believed to be reliable, that the calculations herein are made using such data, and that neither such data nor such calculations are guaranteed by these sources, the Company, the information providers or any other person or entity, and may not be complete or accurate.
From time to time, reference may be made in our marketing materials to prior articles and opinions we have published. These references may be selective, may reference only a portion of an article or recommendation, and are likely not to be current. As markets change continuously, previously published information and data may not be current and should not be relied upon.
The contributors make every effort to ensure that the information and material contained in this report is accurate and correct and has been obtained from reliable sources. However, no representation is made about the accuracy or completeness of the information and material and it should not be relied upon as a substitute for the exercise of independent judgment. Proactive Investors does not accept any liability, including negligence, for any loss or damage arising from the use of, or reliance on, the material contained in this report. There are general risks associated with any investment in securities. Investors should be aware that these risks might result in loss of income and capital invested.
WARNING: No recipients should rely on any recommendation (whether express or implied) contained in this document without obtaining specific advice from their advisers. All investors should therefore consider the appropriateness, in light of their own objectives, financial situation and/or needs, before acting on the advice.
DISCLOSURE: Proactive Investors, its directors, associates, employees or representatives may not effect a transaction upon its or their own account in the investments referred to in this report or any related investment until the expiry of 24 hours after the report has been published.