Spanish potash developer Highfield Resources' (ASX:HFR) Javier potash project in Northern Spain just got a whole lot bigger with positive drilling results pushing out the project area to 97km2.
The high grades from drilling returned including a zinger of 1.8 metres of 27.7% KCl, and together should further enhance project economics.
Four drill holes were completed at Javier, all intersected thick potash mineralisation with one hole intersecting two thick potash seams of: 10.5 metres of 10.9% K2O (17.2% KCl), including 2.4 metres of 15.2% K2O (24.1% KCl) and 1.8 metres of 17.5% K2O (27.7% KCl).
The new project area at Javier is named Vipasca and the drilling shows that mineralisation is still open to the north west.
Drilling also returned 3.9 metres of 12.2% K2O (19.3% KCl).
More than 14 metres of sylvinite was intersected in drill hole J13-03 at depths of less than 300 metres from surface. The sylvinite included 0.9 metres at 19.1% K2O (30.2% KCl).
What should be remembered is that depths of 300 metres are relatively shallow for potash.
With this, Javier--Vipasca should see an upgraded JORC resource in late January - early February.
While a Scoping Study on the initial Javier mine target is expected to be completed early in March Quarter 2014.
Javier-Vipasca
Significantly, the Javier-Vipasca project is less than 40 kilometres from Highfield's Sierra del Perdón project.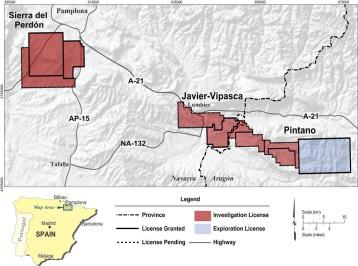 Location of Highfield's Javier-Vipasca, Pintano and Sierra del Perdón projects in Northern Spain
Depths from surface to potash mineralisation intersected by the drilling start at less than 300 metres.
It was previously thought the basin extended only to the north-western edge of the initial Javier project area.
However, the intersections in J13-06 suggest a much larger basin that extends into the new Vipasca project area. The potash mineralisation appears to thicken into this area too.
Or as managing director of Highfield Resources Anthony Hall put it: "This is a brilliant result as it now appears Javier is a much larger project than we envisaged, which is pleasing given it is our initial mine target."
""Some of the grades are spectacular when you consider the substantial project advantages at Javier. Javier has in-place infrastructure, shallow sylvinite mineralisation that appears ideal for mineral extraction via declines, thick halite seams in hanging walls and foot walls, thick sylvinite seams for ease of extraction and brilliant transport options capable of supporting large operations."
Highfield Strategy
Highfield is completing an initial eight hole drilling campaign in the north-west of the original Javier project area. With the initial four drill holes intersecting thick potash mineralisation, Highfield believes there is likely to be sufficient drilling information to support an upgraded JORC Resource estimate.
Analysis
Highfield's potash projects in northern Spain enjoy massive infrastructure and mineralisation advantages.
Javier is now a much bigger resource than initially envisaged which means that Highfield can be more selective with the seams that are mined.
Which implies that mining grades are likely to be a lot stronger than present resource grades (especially when you consider the 1.8m at 27.7% KCl returned.
In essence this will improve project economics no end as the current model is based on grades of around 17% KCl, so to have grades closer to 25% KCl this is a game changer for Highfield.
To wit, there is plenty of newsflow to come including: a maiden JORC Resource on Sierra del Perdón (early January), an upgraded JORC Resource on Javier-Vipasca (late January - early February) and a Scoping Study on Javier (late January - early February).
On results flowing through that will increase the scale and project returns, we expect positive impact on Highfield Resources share price of $0.33.
Proactive Investors Australia is the market leader in producing news, articles and research reports on ASX "Small and Mid-cap" stocks with distribution in Australia, UK, North America and Hong Kong / China.