Kogi Iron's (ASX: KFE) Preliminary Feasibility Study has established its Agbaja Iron Ore Project in Nigeria is an economically robust and technically viable project with average operating costs of US$42.98 per tonne concentrate FOB.
With that, the company will move immediately to a Definitive Feasibility Study as a precursor to a decision to mine at Agbaja, which is expected to be completed by end of Q4 2014.
Other key takeaways include estimated pre-tax NPV of US$420 million (at a 12% discount), an IRR of 23.7% and CAPEX estimate of US$497 million.
"The highly positive results of the study determined that the development and operation of a mine and processing plant at Agbaja to produce 5 Mtpa of iron ore concentrate is technically feasible, economically viable and socially and environmentally acceptable," managing director Iggy Tan.
Agbaja has a four year capital payback and ranks in the bottom quartile for capital intensity (US$99.4 per tonne) and the bottom half of operating costs curve of magnetite projects and comparable to some DSO hematite iron ore projects.
Tan noted that this is due to "the softness of the Agbaja material and the resultant moderate grinding intensity and simple processing plant design, the low strip ratio (0.55:1), gas fired power and river barging for concentrate transport".
The long term forecast FOB price of US$73 per tonne iron ore concentrate supports a net margin of US$30 per tonne and average EBITDA of US$136 million per annum.
"These strong results have led to approval from the Board of Kogi Iron to proceed to a Definitive Feasibility Study as a precursor to a decision to mine at Agbaja. The DFS is expected to be completed by end of Q4 2014," Tan added.
Capital Costs
Capital Costs are estimated at US$497.1 million with the major components being the processing facility and associated infrastructure, which were estimated by independent process engineering consultant Tenova Australia Limited.
Major equipment costs were based on budget quotations from single source suppliers. The balance of the remaining equipment was derived from Tenova knowledge of similar projects and historical databases.
Platework items and buildings have been quantified from the mechanical equipment list and general arrangement drawings, with supply rates and installation durations using similar locality historical data.
Concrete, steelwork, pipework and electrical/instrumentation allowances have been applied as a factored percentage per the cost of mechanical equipment on a facility by facility basis.
The Concentrate Pipelines, Banda Barge Facility Infrastructure, Escravos Transfer Facility Infrastructure and general process plant and off-site infrastructure costs were provided by other consultants.
The breakdown of capital costs is:
- Mine Development: US$11.9 million;
- Processing Plant US$132.7 million;
- Pipeline, Banda & Escravos US$120.2 million;
- Utilities and Infrastructure US$108.2 million;
- Insurance , IT, First Fills, Spares US$32.5 million;
- EPCM US$46.5 million; and
- Contingency US$45.1 million.
Operating Costs
Agbaja operating costs of US$42.98 per tonne concentrate consists of:
- Mining: US$8.12/t;
- Processing: US$13.96/t;
- Barging (FOB): US$18.77/t; and
- General and Administration: US$2.13.
Financial Evaluation
Cash flow modelling of the proposed operation shows a pre-tax, equity Net Present Value for the project of US$420 million (at discount rate of 12%) with total EBITDA cash flow generated over the 21 year project life of US$2.854 billion.
The cash flow model utilises real dollars as its basis and thus does not factor any inflationary impact on revenue or expenses, and a discount rate of 12% was used for NPV determination.
The pre-tax Internal Rate of Return is 23.7%.
Based on total capital expenditure of US$497 million and full year production cash flow of US$136 million (average), the project has a payback period (excluding financing costs) of 4 years. A long term forecast price of US$73 per tonne FOB Nigeria (56% Fe, with discounts) has been used.
The project generates an average of US$365 million of sales revenue per annum.
Agbaja Resource and Location
The PFS assessed the technical and economic viability for the development of an iron ore mining and processing operation at Agbaja to produce 5 million tonnes of upgraded iron ore concentrate per annum.
This is based on the current Resource of 586 million tonnes at 41.3% iron within EL12124 - one of 17 exploration licences held by the company - with the majority, or about 466 million tonnes at 41% iron, classified in the higher confidence Indicated category.
These are sufficient to support a 5Mtpa project for a period of more than 35 years though a mine plan sufficient for 21 years production was used in the PFS.
Agbaja is one of just two channel iron (NASDAQ:CID) magnetite deposits in the world while its average iron grade of 41.3% places it at the top end of magnetite projects world-wide, which generally range from 20% to 40%.
The CID material is relatively soft and friable and only requires moderate grinding, simple magnetic separation, and only a coarse grind particle size to liberate the iron.
Consequently mining and processing costs for the Agbaja project are relative low compared to other magnetite projects. Agbaja's estimated total operating costs rank in the bottom quartile when compared to operating costs other magnetite projects.
Yield is expected to be about 45%, for a final iron ore concentrate grade of approximately 56% iron.
The project's proximity to existing, under-utilised river and port infrastructure suitable for the transport of bulk commodities is another of the project's key competitive advantages.
Barging and transhipping costs are estimated at around US$19 per dry metric tonne free on board, or $0.0297 per tonne kilometre.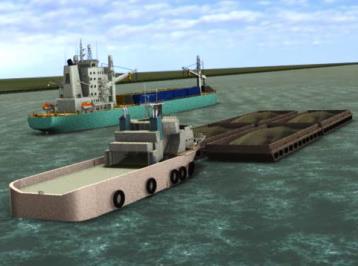 River Barging Configuration
In addition, the Agbaja Plateau where the project is located in is just 15 kilometres northwest of the city of Lokoja in Kogi State and 165 kilometres southwest by road to Nigeria's capital of Abuja.
Lokoja has reticulated electrical power, cellular telephone networks, primary and secondary schools, hospitals and other amenities while Abuja has a large international airport with daily flights to Europe, the middle-east and other African nations and is connected to Abuja by a well maintained duel carriageway tarmac road.
Nigeria is recognised as one of the fastest growing country's in the world and is forecast to become the world's fifth largest economy by 2050.
Its move to diversify away from oil production has also led the government to encourage new forms of investment with mining being one of the highest priority industries.
Mine Plan
Two mining areas (Stage 1 and Stage 2) have been identified, pits have been designed, and material movement schedules completed. The processing plant is proposed to be located in the northeast portion of the area covered by the Resource and between the two areas.
The Stage 1 mining area is approximately 7.2 square kilometres, it is west of the proposed plant site and contains about 158Mt of mineral resources. Targeting the magnetic fraction of the mineral resource, the average grade of material identified for mining is estimated at 46.1% iron, with a corresponding strip ratio of approximately 0.55 to 1.
As currently designed, this area should provide processing plant feed for an initial 15 years.
The Stage 2 mining area covers about 2.2 square kilometres and is to the east of the proposed plant site. This area is estimated to contain approximately 66Mt of mineral resources.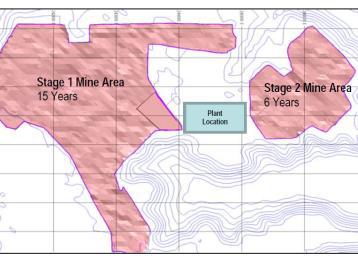 The average grade of material identified for mining is estimated at 44.8% iron, with a corresponding strip ratio of about 0.56 to 1.
As currently designed this area should provide processing plant feed for an additional 6 years, bringing the combined total plant feed from the two areas to 21 years.
Kogi has opted for a mining contractor to conduct all site development, overburden and waste removal, open-pit mining including site rehabilitation, haulage and ore feed to a primary crusher.
Mining operations will be conducted on a 24/7, 365 days per year basis and it is envisaged that production drilling and blasting will not be required, as all material is regarded as soft and friable, and amenable to "free-dig".
Proposals have already been received from three mining contractors, two of which have West African contract mining experience.
A three stage crushing circuit has been designed, comprising of two double deck banana scaling screens, one primary crusher/sizer, one secondary cone crusher, two tertiary crushers and three single deck final product screens, delivering a <15 mm product (P80) to a conical mill feed stockpile.
The nominal throughput of the plant is 1,894 t/hr to achieve 11.1 Mtpa of feed.
The milling circuit will consist of one 6.7m diameter by 9.2m long ball mill with dual 4,500kW drives, operating in closed circuit with 30 multi-deck screens for classification of the solids.
Simple bioleaching will also be used to reduce phosphorous levels in Agbaja iron ore to 0.25% from 0.9%.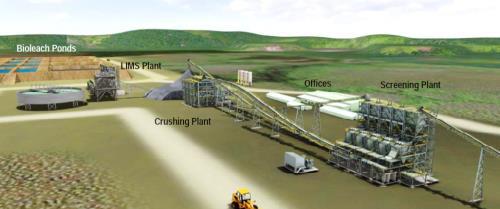 Proposed overall plant layout at Agbaja
Analysis
The PFS establishes Kogi Iron's Agbaja Iron Ore Project as economically robust and technically viable project with an impressive average operating cost of US$42.98 per tonne concentrate FOB, placing it at the bottom half of operating costs curve of magnetite projects and comparable to some DSO hematite iron ore projects.
Agbaja is very well placed at the forefront of West Africa, as the next iron ore hub underpinned by Chinese seaborne demand as it looks to diversify away from the large Australian iron ore producers.
Kogi remains an iron ore player to watch and corporate interest from China or Asian steel companies would not surprise as they move to lock-in African iron ore supplies.
Agbaja Fines will have the advantage of low silica content, which will strongly appeal to Asian customers. For a magnetite concentrate Agbaja Fines will be quite coarse, which makes the product more attractive for sintering and is in the size range of concentrates commonly sintered in China.
The Agbaja Mineral Resource is one of the highest grade beneficiable iron ore resources in West Africa with massive scale potential. A crucial ingredient to the commercial viability of an iron ore mine is access to bulk commodity transport infrastructure, which is one of Agbaja's key competitive advantages.
At a market cap of circa $18 million, the intrinsic value of inherent in Agbaja is not factored into the Kogi share price.
Proactive Investors Australia is the market leader in producing news, articles and research reports on ASX "Small and Mid-cap" stocks with distribution in Australia, UK, North America and Hong Kong / China.