I'm trading options since many months now.
Normally I concentrate my trades on financial stock, mainly in Switzerland. One of my preferred stock is
UBSN
(UBS AG).
This is normally a quite volatile stock (you can find the past market data on the
SIX Swiss Exchange
website), but lately the volatility is decreased. This creates, in my opinion, some bargains in the option market.
Have a look at this chart: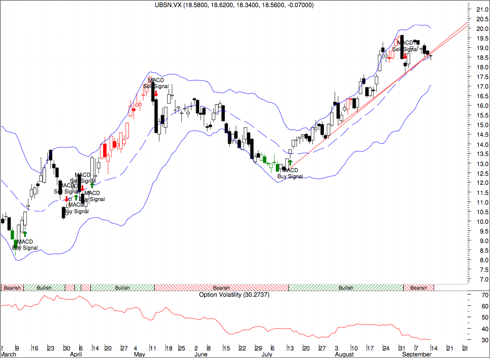 I would like to focus on three points:
The option volatility is at the lowest point since many months (around 30%).
The stock has performed very well in the last weeks / months, the MACD indicator is currently bearish, but this can change fast (actually I'm not even a fan of MACD, I just inserted it for additional information).
I see some possible future trends (red lines).
For these reasons I think investors can look at the options market in order to find some good investments (but please always recall that these are
risky
investments).
I normally look on the
Scoach Schweiz AG
website in order to find good options or warrants.
In this period remember to check specially the
vega
of this instruments (at least in my opinion).
Disclosure: I currently own call warrants on this stock.