Sunday Evening 28 October 2012
With a bias toward owing gold and silver, based in large on world governments, led by their noses by central bankers issuing tsunami fiat as band-aids, in on-going failed attempts to bolster banks, at the expense of people all over the world, we look for opportunities to be on the long side of futures. Last week's range, as price has been correcting, was small, and the close was mid-range. Knowing the best source of market information comes from the market itself, it is simply a matter of reading that information.
A small range in a decline tells us the forces of demand, [buyers], are stepping up and at matching the efforts of supply, [sellers]. Logic says this has to be, otherwise sellers would be able to extend price, and the range, lower. The mid-range close confirms this. Why? The close determines who won the battle between buyers and sellers. Mid-range the bar is a draw between the two forces, but a draw that is really a losing battle foe sellers because they are in control during a downside correction. This close says they lost control.
If that is the case on the larger weekly time frame, maybe there is an opportunity showing up on a lower time frame?
(click to enlarge)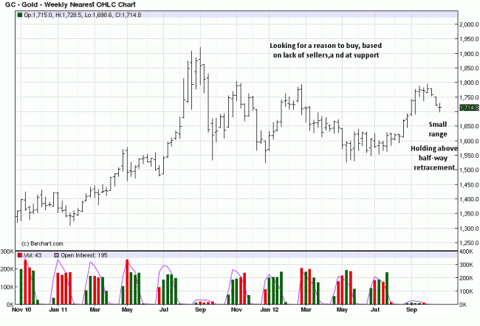 Click to enlarge
Gold rallies on the 25th but does not continue, [Buy new high = show of strength]. If price can exceed that high, it may continue, so we enter a buy stop at 1719. Price declined in overnight trade and formed a higher low, a positive sign. Next day, the 1719 buy stop is triggered, but by the end of that bar's close, it was on the lower end. Did we buy a failed probe? Possibly, we have a sell stop and now wait for new price development to confirm or deny the strategy.
All that can be said is, by the close the retracement was holding the 50% level. It can give way by Monday, but for now, it was a hold.
(click to enlarge)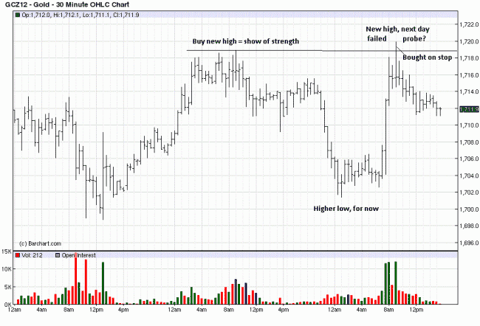 Click to enlarge
The same was true for the silver market. The weekly range was small, and the range and close were well above the 50% general measure, [as a sign of relative strength]. If that were the case for the weekly, might there be a buying opportunity in a lower time frame?
(click to enlarge)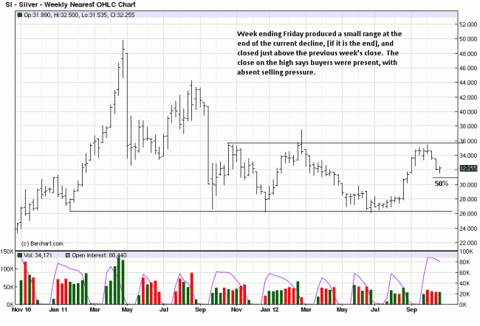 Click to enlarge
Because silver is the weaker market, we look to buy support, as opposed to buying what may seem like strength, in the form of a new intra day rally. The buy area for silver was on a small pull-back that looked to be holding above recent resistance, [past resistance becoming future support]. The bar closes were on the upper end, so why not?
Overnight trade was a little disappointing, but the previous support held, and the subsequent rally had increased volume on wide ranges. The upside follow-through in both gold and silver has not been great, and these may not work, as intended, but that is part of making a decision based on present tense price information, then having new price behavior possibly change the assessment.
The buying-of-physical-gold-and-silver mantra has not changed, at all. Central bankers are in trouble with accountability of their purported holdings, [maybe more tungsten than gold, or having rehypothecated the metal too many times.]. The recent Bundesbank demand for, and repatriation of at least some of their gold holdings, [which may have disappeared like MF Global accounts], may be showing one of the many holes in the dike. Keep buying.
(click to enlarge)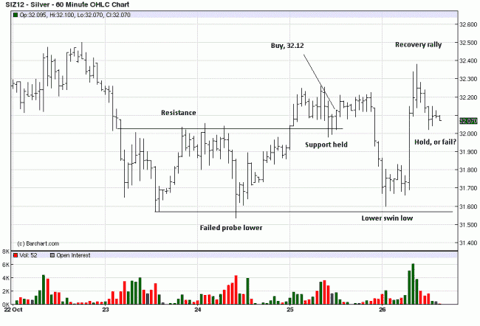 Click to enlarge