Sunday 29 July 2012
There are times one can over analyze a market, so we are looking at where gold and silver are in a "quick-view" manner to keep it simple. Waiting for confirmation of any market can be trying, at times, but it make more financial sense than to take additional uncertain risk. The weekly chart is more important than the daily, and we see that silver remains a captive of the existing formation and "go nowhere" move.
The close was encouraging, but...[and anytime there is a "but" qualification, it serves to negate what was just said]...we do not see any strong demand entering, as yet.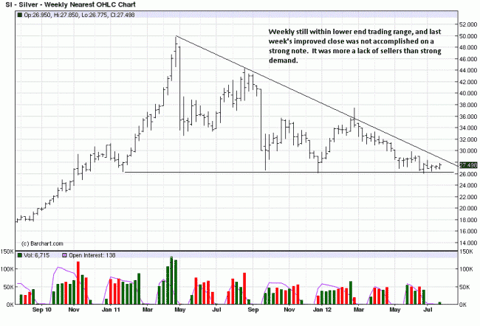 We view supply and demand trend lines as an indicator, but not necessarily a trigger for action. All that can be said with the "breakout" of the supply line is that the down trend has weakened, but it is not yet over.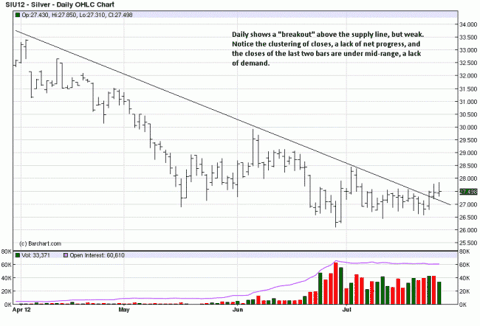 Gold remains one of the stronger futures on higher time frames. Like silver, it, too, has been trading within a defined range since its sharp drop, last September. The week ended on a relatively high note, but was still under June resistance, a note of caution.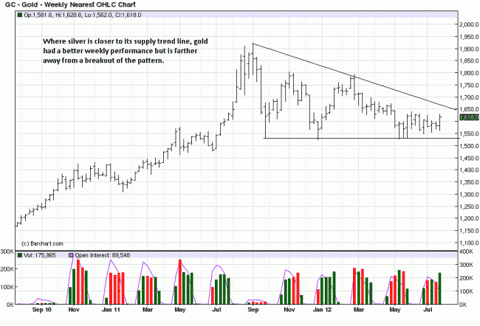 The large drop on the 6th trading day in May is where gold went lower from another small trading range. Typically, the high of where weakness began will be defended by the bears. We see evidence of that at 1, the first retest of the early May breakdown. Retest attempt at 2 also failed, and at a lower high, a sign of ongoing weakness and a message of likely lower prices. Retest 3 was another lower high, but now within a defined trading range, as opposed to lower highs and lower lows.
Current retest 4 is more interesting. Note the speed of decline between 1 and 3. The latter was more labored. Then note the difference in rally effort between 2 and 4. After a two day decline from 1, 2 took between 5-7 days to recover most of the loss.
When we get to 3, the decline was more labored than one, and it covered less ground. This tells us sellers are losing control, and buyers are stepping up to meet selling efforts. Rally effort 4 was much
faster than two, but the weak closes of the last two trading days tells us sellers were countering the buyers' efforts.
What we can say for certain is that gold has not exceeded previous resistance levels, and one is strongly cautioned against buying rallies at a resistance level, especially in a down trend to sideways environment.
Keep your powder dry.
b