A great way to strategically invest in the solar industry is to focus on companies involved in distribution, installation and service of solar arrays. Whether they are smaller rooftop installations, or vast utility-scale projects, there is no doubt that the number of installations will continue to grow.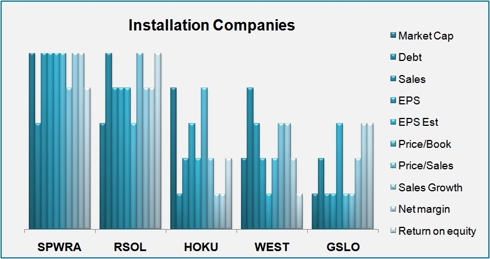 The five largest instillation companies are graphed in a comparative chart on the next page. Companies are compared to the five others in each of the graphed categories. So the higher the bar, the better a company rates as compared to the others.
For example, SunPower Corporation (SPWRA) rates better than other companies in six of the ten categories - market cap, sales, earnings per share, earnings per share estimates (going forward), sales growth and net profit margin. The chart clearly shows that both SunPower and Real Goods Solar (RSOL) are leaders in the group.
It should also be noted that Go Solar USA (OTC:GSLO) is the smallest company on the list in terms of market capitalization, and they have had virtually no sales since 2006. This is truly a development stage company, so it is only appropriate to speculative investors.

For more details, see Invest Solar: Solar Energy Investment Opportunities, a special edition of the Roen Financial Report.