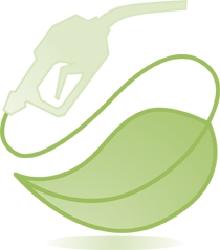 As unlikely as it sounds, the U.S. military may be the group that turns the tide on America's dependence on foreign oil. Military planners are realizing that traditional fossil fuel based operations increase on-the-ground risks, while at the same time benefiting economies that are not necessarily friendly to U.S. interests. Because of the military's huge purchasing power, alternative
fuel producers would have an enormous market to supply.
According to Navy Secretary Ray Mabus "America's long-term national security depends upon a commercially viable domestic biofuels market that will benefit taxpayers while simultaneously giving Sailors and Marines tactical and strategic advantages."
Military strategists may not be out to save the planet, though that
would be a lovely side effect.
The Navy spends $4 billion a year on petroleum based fuels. The Air Force spends $8 billion. Total petroleum expenditures for the entire Department of Defense are between $16 and $18 billion. That's more money than Maine, New Hampshire and Vermont spend on oil combined! With an oil bill that big, the military needs options. The Air Force, for example, will have all its aircraft certified to use biofuels in just two years. The trick, then, will be to help advance market forces until biofuels are cost competitive with fossil fuels. This is not easy, since biofuels refineries can cost hundreds of millions of dollars to get up and running.
To address this, President Obama
recently announced
that the Navy, the Department of Agriculture and the Department of Energy will invest over half a billion dollars over the next three years to help such an effort. The goal is to construct new biofuel plants, or retrofit older refineries to become biofuel producers.
Honeywell International (NYSE:
HON
) is a leader in alternative fuel research and development. Honeywell has plans to license its refining technique to Valero Energy Corporation (NYSE:
VLO
) and Darling International Inc. (NYSE:
DAR
), who are building a $368 million
biofuels plant
in Louisiana
(Honeywell is one of the
Paradigm Portfolio companies
of the Roen Financial Report)
.
Biofuels are not the only form of renewable energy being aggressively pursued by the military. Anything that can reduce the number of fuel convoys—and the real risks associated with transporting them—is a plus for field operations. Having biofuels be the focus of military planners, however, could be the leverage needed to tip the scales and make biofuels more cost competitive with oil.
Disclosure:
I have no positions in any stocks mentioned, and no plans to initiate any positions within the next 72 hours.