The Paradigm Portfolio is a select list of green investments that are considered best positioned to benefit from the energy paradigm shift away from foreign oil and polluting coal and towards cleaner power alternatives. These leadership companies are culled from a list of around 250 alternative energy stocks that play an important role in redefining our energy future.
Accounting for additions and removals from the portfolio since inception in January 2013, returns* for the Paradigm Portfolio were up a respectable 29% as of October 10, 2013. This by far beats returns of the overall market, which was up 19% over the same time period as measured by the S&P 500.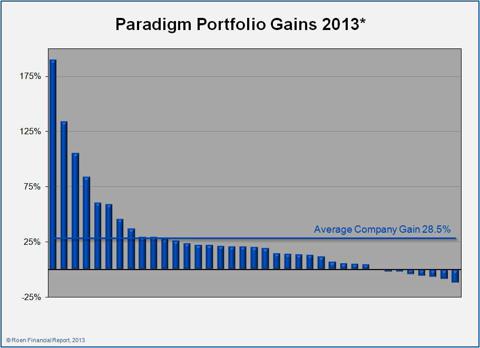 *Hypothetical gain from portfolio recommendations. It should not be assumed that recommendations made in the future will be profitable or will equal the performance of the securities on this list.
Paradigm Portfolio Returns
Average gains of the 37 companies that make up the Paradigm Portfolio are 28.5% since the beginning of 2013. Almost 80% of stocks are trading in positive territory since entering the portfolio, and over two-thirds are posting double-digit gains. When looked at on an annualized basis, the Paradigm Portfolio has an impressive equivalent of 39% gain annualized.
The best performer by far is SolarCity (NASDAQ:SCTY), up around 200% since entering the portfolio in January 2013. Though SolarCity has not yet surpassed its peaks back in May, it has been holding in a trading range from the low 30's to mid 40's. Continued positive developments with SolarCity are convincing investors that this innovative energy stock will dominate the growing solar installation market.
SAP AG ADR (NYSE:SAP) is the poorest performer, down 12% since January. This large German software company, which sells smart grid management products for utilities, has experienced downward earnings pressures from the generally lackluster European economy. SAP does, however, have very good free cash flow and strong earnings estimates going forward. We consider the stock below fair value at current prices, so SAP will remain a Paradigm Portfolio component.
Paradigm Portfolio Update
One company being added to the Paradigm Portfolio is Fuel Tech, Inc. (NASDAQ:FTEK). Fuel Tech is a relatively small Illinois-based pollution control and combustion efficiency company. FTEK has steadily growing annual sales and an encouraging number of new orders for its products. Another good sign is that the company has positive net insider buy activity. This, combined with the fact that we measure the stock as undervalued, means FTEK likely has good upside potential from here. One word of caution is that Fuel Tech trades thinly and has had extreme volatility in the past, so it is considered a highly speculative stock.
Disclosure: I have no positions in any stocks mentioned, and no plans to initiate any positions within the next 72 hours.