Investors who bought alternative energy stocks have been nicely rewarded over the past year. Since its inception in January 2013, The Roen Financial Report Paradigm Portfolio has posted extremely robust returns, up 47% after accounting for additions, removals, and rebalancing*.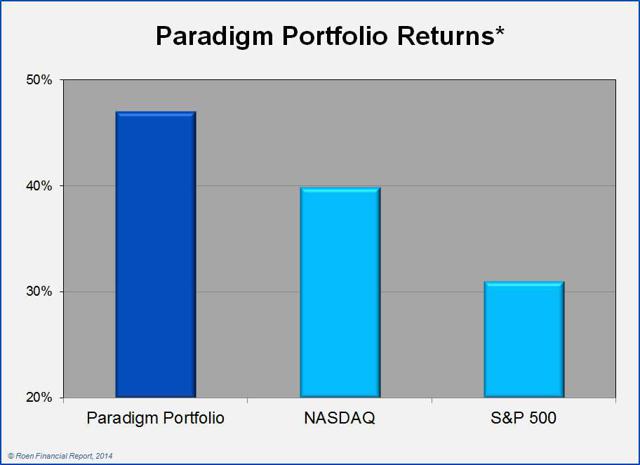 This portfolio contains a carefully filtered list of about 40 alternative energy stocks. These investments are hand-picked from a universe of +/- 250 publically traded companies in energy efficiency, environmental, fuel alternatives, smart grid, solar and wind.
Returns
The lift in alternative energy stocks has been broad, with 87% in the Paradigm Portfolio showing gains. More impressively, fully three-quarters of companies are up double digits or greater. In fact, the top ten gainers are up an average of 98%! SolarCity (NASDAQ:SCTY) has the greatest gains by a long shot, up 314% after rebalancing.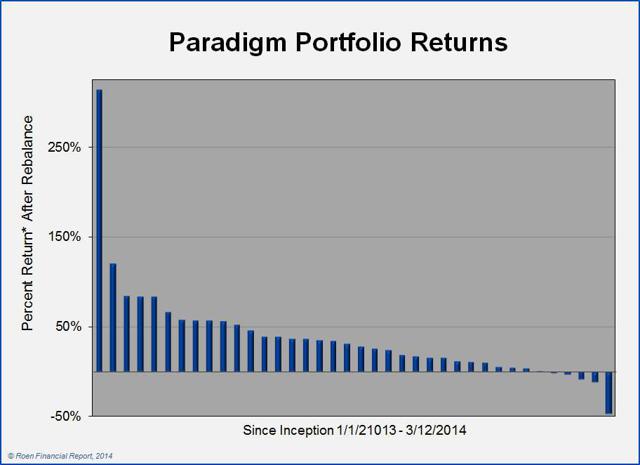 The bottom performing stock is the waste-to-energy company Covanta Holding Corp (NYSE:CVA). There was a large price drop for Covanta back in October 2013 due to lowered cooperate guidance. Even though Covanta has had flat sales and a dip in earnings, long-term we believe this company's investment story is still intact.
Portfolio Update
There are no additions or removals from the Paradigm Portfolio this month. We are monitoring a few companies for removal, including CLARCOR, Inc. (NYSE:CLC). If fair value calculation for this environmental stock becomes less favorable, it will be considered for removal.
Alternative Energy Investment Outlook
We still have an overall bullish posture on alternative energy stocks in the medium to long term. There are several positive tailwinds on the sector, one of which is decreasing overall deployment costs for renewables. This is especially true when the cost of developing renewable sources is compared to that of conventional power plants. Also, there are large investments being made in upgrading and modernizing the electric grid, which will greatly benefit distributed energy sources such as wind and solar. This smart grid investment will also benefit companies in the energy efficiency products and services business.
The biggest tailwind on the sector has been the low price of natural gas, since natural gas is the largest competing fuel source for electric generation. While there has been a spike in natural gas prices as of late, we believe prices of this domestically abundant fuel source will remain relatively low several years out. Though that is good news in terms of carbon emissions, since natural gas is far less polluting than coal or oil, it puts competitive challenges on renewables. Still, on balance alternative energy stocks are likely riding a long-term trend that is here to stay.
---
*Hypothetical gain from portfolio recommendations. It should not be assumed that recommendations made in the future will be profitable or will equal the performance of the securities on this list. For an explanation of how hypothetical returns are calculated, please see the Returns section under How Investments are Picked in the Roen Financial Report User Guide.
---
Disclosure: I have no positions in any stocks mentioned, and no plans to initiate any positions within the next 72 hours.