The Roen Financial Report Paradigm Portfolio is a select group of alternative energy stocks. These companies are considered best positioned to benefit from the economic paradigm toward cleaner energy alternatives shift and away from foreign oil and polluting coal.
The portfolio has maintained excellent returns, up 44% since inception after accounting for additions, removals, and rebalancing*. One profitable recycling company has been added to the portfolio, and manufacturer in efficiency products is being removed.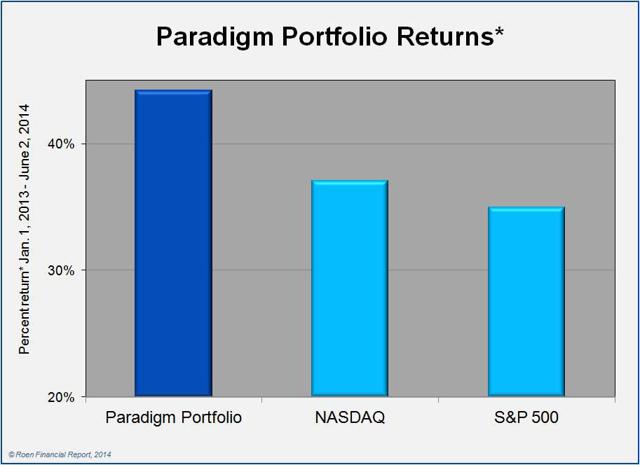 Returns
The Paradigm Portfolio remains ahead of the S&P 500 and NASDAQ indices, as shown in the chart above. The portfolio is up 44.2% since its inception on January 1, 2013. This compares to a gain of 35.0% in the S&P 500 and 37.1% in the NASDAQ over the same time period.
The rise in alternative energy stocks has been broad, with 33 out of 38 companies showing gains. SolarCity (NASDAQ:SCTY) enjoys the best returns, up a stunning 208% after rebalancing. Even the five stocks that are down have only dropped an average of 4.2%.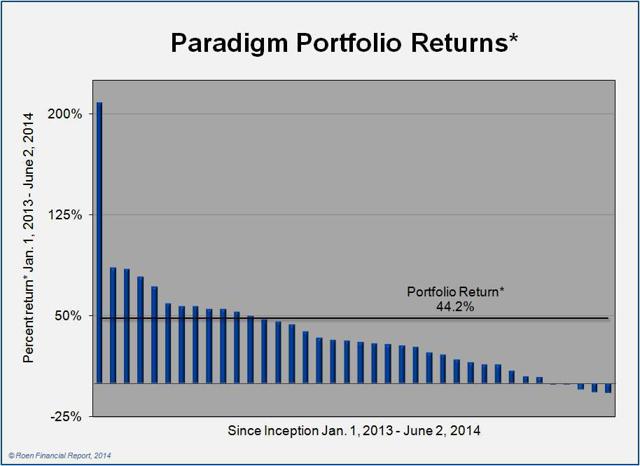 Portfolio Update
LKQ Corp (NASDAQ:LKQ), the newest addition to the Paradigm Portfolio, is a Chicago-based auto parts dealer that has a large recycling business. For example, LKQ has a tire recycling program that processes over 4,000,000 tires each year. This profitable Chicago-based company has more than 23,000 employees and over $5 billion in annual sales. Its revenues and earnings per share have grown every year since 2007, and the company has a very healthy cash flow. Even though the stock is considered above fair value, we see much upside potential from here for the long-term investor.
VECO)" target="_blank" rel="nofollow">Veeco Instruments Inc. (VECO), which sells equipment used in the production of light emitting diodes (LEDs), solar panels and other devices, is being removed from the portfolio. The stock shows poor fundamentals so has not fared well in our stock screening process. The Roen Financial Report sees the stock as overvalued at current levels, trading above its fair price channel. We feel it is best to lock in any gains made on this stock when it is above the 30.42 purchase price. CREE)" target="_blank" rel="nofollow">CREE Inc. (CREE) remains in the Paradigm Portfolio as a better investment opportunity in the LED lighting industry.
---
*Hypothetical gain from portfolio recommendations. It should not be assumed that recommendations made in the future will be profitable or will equal the performance of the securities on this list. For an explanation of how hypothetical returns are calculated, please see the Returns section under How Investments are Picked in the Roen Financial Report User Guide.
Disclosure: I have no positions in any stocks mentioned, and no plans to initiate any positions within the next 72 hours.