One of the biggest stories in solar involves complaints by U.S. companies of unfair trade practices by China. The grievances point to dumping of solar products due to massive subsidies from the Chinese government. As a result, the U.S. Department of Commerce has made a preliminary determination that China has indeed been dumping solar cells into the U.S. market at "less than fair value" and has decided to impose tariffs. If this preliminary determination holds, and there is every reason to think that it will, Commerce may increase tariffs on Chinese solar manufacturers this spring and summer.
According to the Los Angeles Times, duties of between 2.9% and 4.73% will be imposed. Due to limited information from the Chinese government, no one knows what the true levels of subsidies are. However, analysts believe it to be at least double digits.
Though tariffs are an important step, many experts think that duties at this level are too low to make much of a difference. The stock market seems to agree, as seen in the chart below.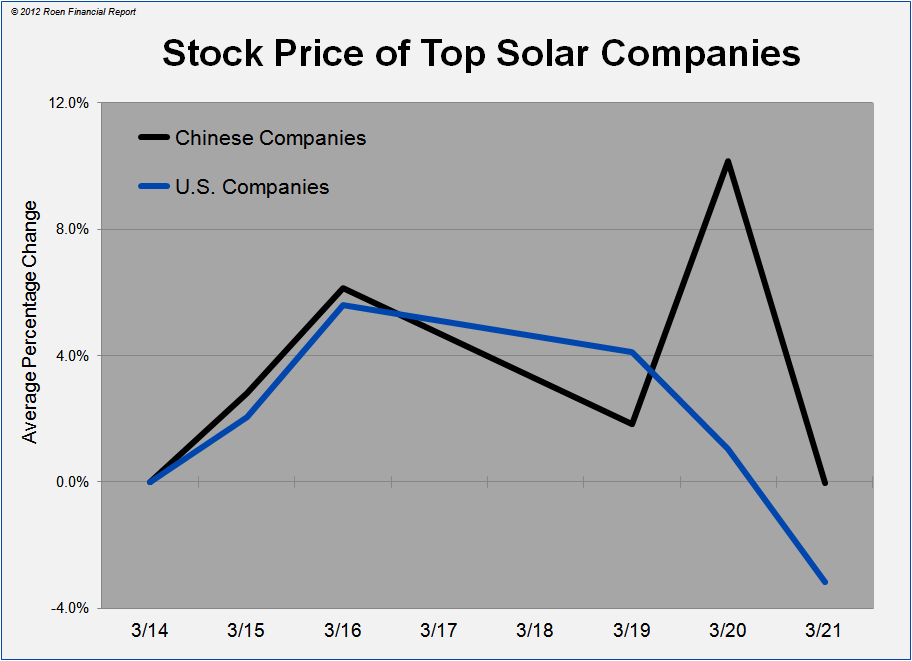 The chart graphs the average price change of the top 4 Chinese solar companies as compared to the top 4 American companies over the past week. The Chinese companies are Suntech Power Holdings Co. (NYSE:STP), LDK Solar Co. ADR (NYSE:LDK), Yingli Green Energy Hold. Co. (NYSE:YGE) and Trina Solar Limited ADR (NYSE:TSL). The U.S. companies are First Solar, Inc. (NASDAQ:FSLR), MEMC Electronic Materials, Inc. (WFR), SunPower Corporation (NASDAQ:SPWR) and GT Advanced Technologies Inc. (GTAT).
These Chinese solar stocks spiked 8.1% at the news, as investors felt relief that tariffs were not harsher. Correspondingly, American solar companies went down 2.8% pointing to continued tough competition from China. The next day, however, Chinese companies lost all the ground they gained, and US companies continued to fall. This could be a "sell on the news" phenomenon, but future weeks will show a clearer picture.
Could this turn into a trade war? Very possibly, since China has argued that U.S. government investments in solar amount to the same type of subsidies. Escalating tariffs on both sides would hurt U.S. solar purchasers much worse than their Chinese counterparts, since the trade imbalance on solar components is hugely skewed toward US being a net importer.
This could slow the drop in the price of solar components, a trend that has accelerated U.S. installation activities. This in turn may hurt companies such as Ameresco Inc. (NYSE:AMRC), which to date has posted strong earnings and growing sales. The ultimate winners, though, should be some of the U.S. solar manufacturers mentioned above, as their product will become more competitive in the growing domestic market. In particular, I like GTAT, which has an attractive price/earnings ratio and excellent earnings growth.
Disclosure: I am long TSL, WFR.