Since Feb 8th 2010, market has posted one of its strongest performances. The underlying economic data has certainly shown improvement however one has to be skeptical about this statistical recovery mostly based on government stimulus. None the less, even if you believe that this stimulus will eventually lead to a pick up in private demand and we would overcome all the structural issues facing the economy, the recent run up has been very strong and the market needs to take a breather. I mention the technical and fundamental reasons why the market needs to give back some of its gains.
Technical reasons:
Most technical indicators point to an overbought state: 
Relative Strength Index (RSI):

RSI has to be observed with some historical perspective in mind. For certain stocks/indices RSI is more accurate in predicting technical momentum than others. Details about the index can be found at its wiki page. Beyond the math (which is not very complicated), RSI plots a stock in range between 0-100 where any reading below 30 indicates and oversold state and any reading above 70 an over bought state. As we can clearly see in the RSI chart of S&P 500 (SPX) below, for the last 3 times when RSI (the bottom part of the chart) for SPX went over 70, SPX corrected 3%, 5% and 8%. Now RSI is again showing a reading of 70+ indicating this market seriously needs to take a breather.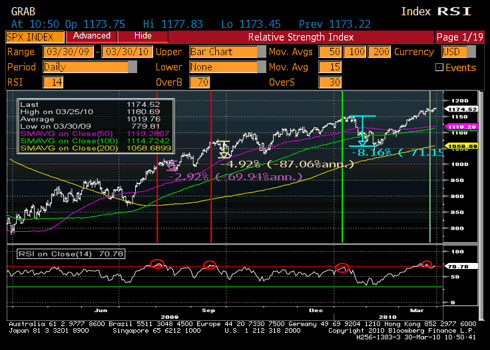 S&P500 RSI graph
S&P 500 sector trading ranges:

Bespoke Investment Group does some very interesting and incisive analysis on historical SPX performance. In a recent article by them (link here), they pointed out that 8 out of the 10 sectors in the SPX are trading in the overbought range. They plot the chart of each sector and define its trading range by choosing upper and lower limits of the range 1 standard deviation above and below the 50 day moving average respectively. Here is the chart which they have put up: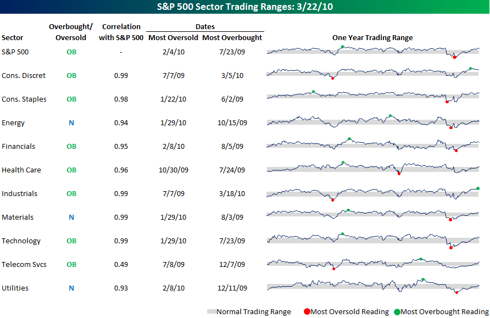 Bespoke Investment Group: Overbought S&P sectors
VIX

: VIX (SPX volatility index) has trended down since the March lows, however there are still structural problems with the economy (fundamental reasons mentioned below). Its hard to imagine that VIX is trading at pre-Lehman level when: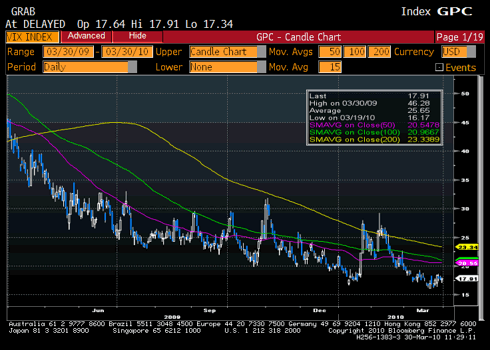 VIX (Volatility index graph)


Fundamental reasons:
There are tons of fundamentals reasons which argue against this market rally, however one can easily (and to certain extent rightly) make the point that despite these reasons existing for a while, the markets have inched higher (the age old maxim: the markets can remain irrational for much longer than one can stay solvent). But none-the-less, the reality has to catch up sooner or later, Paulson didn't make money on his short subprime trade in 05-06!
David Rosenberg does an interesting job of digging though tons of data to make his point (even though he has been frustrated with the market run up but as we run up more each day we get closer to that overdue correction and I think too many forces are lining up to point to that).

From Rosenberg:
For the first time in this year-long bear market rally, the S&P 500 has not endured a daily decline of at least 1% over a one-month time frame. January was no more than a hiccup and has seemed to have emboldened the view that any decline is a blip and a buying opportunity.
The mantra is that after breaking technical threshold over technical threshold in what can only be described as a classic 1930-style bounce off a depressed low, we will now see a 61.8% retracement of the October 2007-to-March 2009 plunge, which would put 1,230 as the next key resistance point for the S&P 500. Interestingly enough, that would take the market back to where it was when Lehman collapsed. Of course, back then:
• The dividend yield was 2.4%, not 2.0%;
• The unemployment rate was 6.2%, not 9.7%;
• Industry operating rates were 73%, not 69%;
• Housing starts were 822k annual rate, not 575k;
• New home sales were running at a 436k annual rate, not 308k;
• The Case-Shiller home price index was 162, not 146;
• The level of retails sales was $366 billion, not $356 billion;
• Auto sales were running at a 12.5 million annual rate, not 10.3 million;
• The level of employment was 136.3 million, not 129.5 million;
• Real personal income excluding government transfers was $9.5 trillion, not $9 trillion
• The level of manufacturing shipments was $429 million, not $384 million
• Consumer confidence levels were at 61, not 46
• Credit card delinquency rates were 4.6%, not 5.8%
• Bank-wide residential loan default rates were 5.3%, not 10.1%
• Commercial bank credit was $7.3 trillion, not $6.6 trillion
• The fiscal deficit was $500bln, not $1.5 trillion.
It makes absolutely perfect sense for the market to head back to those 2008 levels if and only if the broad array of macro indicators can manage to head back to the levels prevailing at that time as well. The jury, shall we say, is still out on that one; with deference to the impressive surge the market has managed to turn in and the wall of worries it has either been able to climb or merely dismiss out of hand.
Disclosure:
Short SPX