Date Launched: September 16, 2009

Links: Website, Factsheet, Prospectus

Investment Strategy:
DENT is an actively managed fund of funds (more accurately, an ETF of ETFs) and invests primarily in other ETFs on the market. With a goal of long-term capital growth, DENT tries to identify "through proprietary economic and demographic analysis, the overall trend of the U.S. and global economies and how consumer spending patterns may change". The portfolio managers use that analysis to invest in ETFs across different asset classes, including domestic and foreign equities, fixed income and commodities.
Portfolio Managers:
Harry S. Dent – Developer of "The Dent Method", a forecasting approach based on demographic trends. Has several best sellers to his name and also publishes the HS Dent Forecast newsletter. Has been featured in television and written media numerous times.
Rodney Johnson – President of HS Dent Investment Management. Has worked with Harry Dent for more than 10 years, developing the Dent Method. Has been in the financial industry for over 20 years.
Past Performance –
The prospectus highlights the performance of a "Dent Strategic Portoflio" in the Northern Lights Variable Trust, which operates on very similar strategies as DENT and reported annualized returns of 12.35% in 2009, ending May 31, 09, outperforming the S&P500 by 10.58%.

The "AIM Dent Demographics Trend Fund" started off with a similar strategy in 1999 but in a 4-year period till 2004, it lost 11%, underperforming the S&P by about 9% per year.
The Numbers:
Gross Expense Ratio - 1.56%
Management Expense Ratio - 0.95%
Average Volume – 18,579 shares
What's special about it?
Unlike any other existing Active ETF, DENT invests solely in other ETFs as opposed to individual securities. In other words, DENT resembles a fund of mutual funds, except it's made up of ETFs which are supposedly cheaper and more liquid than mutual funds, hence benefitting investors. (or at least that's the idea)

The fund can be long, short or in cash at any point, at the manager's discretion and depending on the market conditions.

Investment strategy is based on 5 key attributes: Demographics, Tactical, Risk Mitigated, Expertise and Active.
Analysis:
Positives –
Investing only in other broadly based ETFs instead of individual securities ensures there is sufficient diversification in the portfolio, since there would be no large single stock or sector bets. The fund has to be in 10 sectors.

DENT has been the fastest growing Active ETF getting a lot of investor interest, trading over a million shares in its first 4 days, and is already the 2nd largest Active ETF on the market with a market cap of around $26 million. The liquidity will help ensure spreads are not too wide.
Negatives –
As a fund of ETFs, DENT might well be just layering on expenses on top of the expenses of underlying ETFs they invest in. A 1.56% expense can eat a big part of your return, especially in sideways markets.

Whether or not a long-term, demographics based strategy is even relevant to current market conditions is debatable as investor sentiment and markets continue to be directed by short-term developments and government intervention.
Performance since inception vs S&P500: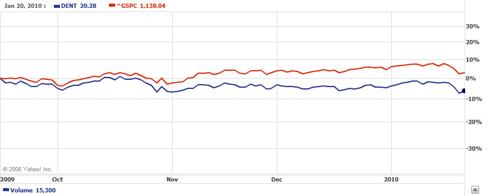 Click to enlarge
Disclosure:
No position in DENT.