As a follow up to last quarter's (3Q 2013) picks and pans, outlined below is a recap of the small cap stocks we covered during the fourth quarter. The fourth quarter was a tough one on the short side, yet, there were a couple of big winners.
Let's start with the losers
"Win as if you were used to it, lose as if you enjoyed it for a change."

-Ralph Waldo Emerson
A couple of the biggest losers were on the short side, LivePerson (NASDAQ:LPSN) and Media General (NYSE:MEG). The LivePerson outperformance comes as the company is having some success with its international expansion, and Cyber Monday proved to be very fruitful for the company. The Media General call was untimely, as the company approved a merger with Young Broadcasting weeks after our call.
The other two biggest losers for the quarter included Novatel (NVTL) and dELiA*s (NASDAQ:DLIA). Novatel has had some struggles with gaining material strength with its products, but we're still long-term fans. We feel the same about dELiA*s.
Now for the winners
"I play to win, whether during practice or a real game. And I will not let anything get in the way of me and my competitive enthusiasm to win."

-Michael Jordan
The single best winner for the quarter was Responsys (NASDAQ:MKTG), which is up 70% since our call. This comes as the company is being bought out by Oracle.
Callidus (NASDAQ:CALD), eGain (NASDAQ:EGAN) and ValueVision (VVTV) were all equally great winners. Callidus continues to be strong bookings in SaaS, eGain was a short call that worked in our favor, and ValueVision continues to hold up nicely despite falling 10% in after hours after 3Q earnings.
All in all, 4Q was hurt by a couple short positions that moved largely against us. The carryover picks from the third quarter, however, continue to perform quite well.
Bold equals short position, red highlights equal a position that's moved 20% or more against us, and green highlights equal a position that's moved 20% or more in our favor.
4Q 2013
(click to enlarge)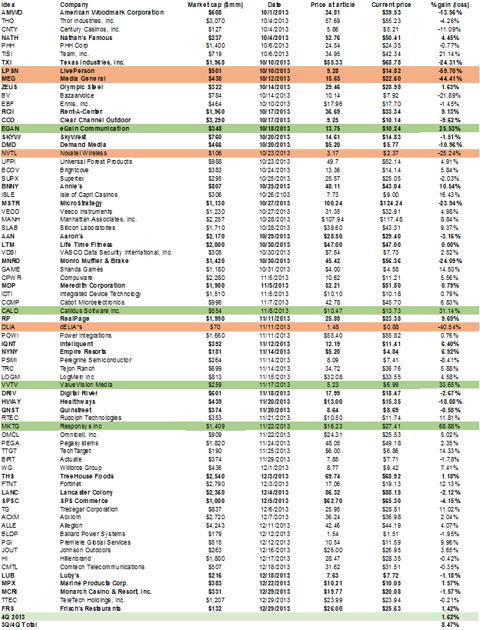 Click to enlarge
As a quick overview, outlined below are the 3Q small cap picks and how they've done through the end of 2013. The biggest losers of 3Q were two short positions that have continued higher, Blue Nile (NASDAQ:NILE) and Susser (NYSE:SUSS). Meanwhile, there were a number of big wins on the long side, including Harman International (NYSE:HAR), Janus Capital (NYSE:JNS) and Amira Nature (NYSE:ANFI).
3Q 2013
(click to enlarge)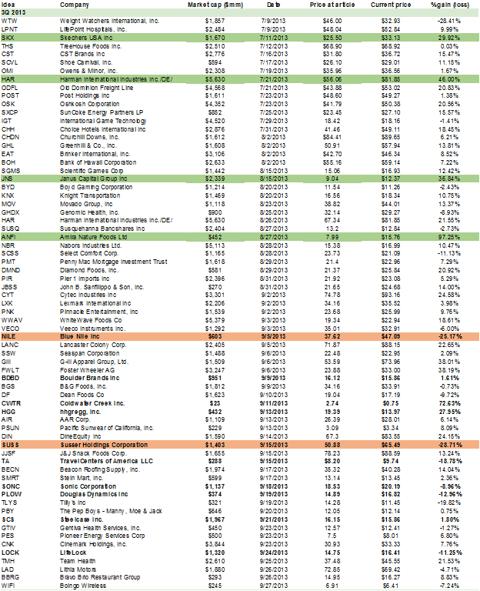 Click to enlarge
Happy new year and here's to a successful 2014!