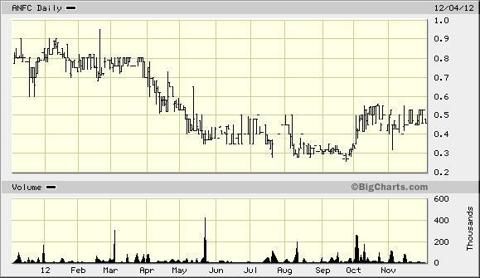 Paul Silver of Wall Street Resources interviewed Black Ridge Oil & Gas, Inc.'s CEO Ken DeCubellis, in November of 2012. Here is the transcript from the interview.
Question: You have many years of experience working with large, traditional energy as well as renewable energy companies. How would you compare those experiences? What was it about Black Ridge that attracted your interest?
Ken: Working at Black Ridge Oil & Gas is really the best of both worlds. We are a vibrant, start-up company with a great team of entrepreneurs and subject matter experts. It is a lot of fun working with this team and in this environment. Plus, the return potential in the oil play in the Bakken is incredible. We have an opportunity in the Bakken with our business model, if we execute our strategy, to return a significant amount of value to our shareholders.
Question: 2012 was really the beginning for Black Ridge Oil and Gas. You have made enormous progress in a very short period of time both from a production/operation as well as a financial perspective. Can you go over the major accomplishments?
Ken: Our relationship with Dougherty Funding, LLC and our $20 Million Credit Facility is the biggest accomplishment the Company has had in 2012. As a non-operator, when you get down to it, we are really just a financing partner to our operators. So, obviously, having access to low cost capital is critical. Also, with our second quarter 2012 results and our production estimate of 300 BOEPD for the third quarter of 2012, we are developing our leases at a rapid pace and are cash flowing. This growth rate has been nice to see this year and it demonstrates the value of our business model.
Question: As a Bakken-focused company, what trends are you seeing vis-à-vis drilling costs and activity? What are your expectations over the next 12-24 months in the Bakken?
Ken: The good news is that we are seeing drilling and completion costs come down. Our operating partners have prioritized this and we are beginning to see the results. I expect AFE's to be in the $8 Million to $9 Million range for 2013. At these levels and 500,000 EUR wells, we would anticipate making 3X cash-on-cash returns.
Rig counts have pulled back into 190 range, which is below the peak levels we saw earlier in the year.
Older, inefficient rigs have been retired, which is a good thing. We are also seeing more downspacing in the heart of the play, but I don't expect a big increase in downspacing until additional takeaway capacity is added in the 2014/2015 timeframe.
Question: How would you describe your overall strategy? How are you different from other small cap Bakken companies?
Ken: First, we are a non-operator and we have no plans to alter the business model. We believe that the inherent low cost structure in the non-op model will give us superior returns over the long term. Secondly, active portfolio management is a critical part of our business philosophy. We are not taking a shot gun approach to the play, but instead are laser focused on specific geographies and partnering with specific operators. As such, we believe we can achieve better than average Bakken returns over the long haul.
Question: Can you address your capital needs as well as the status/timing of moving up to a major exchange?
Ken: We currently have sufficient capital to execute our development and growth plans for 2013. Regarding moving up to a National stock exchange, that is definitely in our plans. We would qualify now based on the two year operating history standard subjection to completion of certain prerequisites which we believe we will be able to meet. However, I want to take a measured approach to this. It is important that we execute on our plans and demonstrate the rapid monetization of our leases into production and cash flow so that when we migrate to a National stock exchange, we have significant momentum behind the company.
Question: What is your opinion on the price of oil?
Ken: I have a very bullish view of oil prices in the next 3-5 years. The last four years have been challenging for the global economy, but we are beginning to see positive signs of economic improvement. I remain upbeat that the folks in Washington DC will find an acceptable resolution for the fiscal cliff situation so that we can keep the positive economic momentum going.
Thanks Ken!
Disclosure: I am long OTCQB:ANFC.
Additional disclosure: Our firm provides consulting services to Blackridge Oil & Gas. Full disclosure information can be found at:www.wallstreetresources.net/disclaimer.asp