In late January 2013, Pioneer Natural Resources Co. (NYSE:PXD) agreed to sell a 40% stake in 207,000 acres in West Texas's Wolfcamp Shale to Sinochem Group in a deal worth $1.7 billion. Sinochem agreed to pay $500 million in cash for roughly 82,800 net acres and will pay the remaining $1.2 billion by carrying a portion of Pioneer's share of future drilling and facilities costs. The deal is expected to close in the second quarter 2013. One analyst placed the value of Pioneer's land at about $17,000 an acre, well ahead of the analysts' expectations of $12,000 an acre, representing a 41.6% increase in value per acre. This compares to nearly $6,000 per acre paid by ConocoPhillips in September 2011. This valuation validation should serve as positive stock performance catalysts for publicly traded operators in this play, named below.
As way of background, the Wolfcamp Shale is a shale formation located in the Permian Basin of Texas and New Mexico. The Wolfcamp Shale is an oil & natural gas zone located below the Spraberry Formation which is also an oil field. Directly below the Spraberry oil play lies the Dean sandstone and then the Wolfcamp oil shale formation.
For years, E&P companies have been drilling the Spraberry field which was discovered in 1943 by a farmer in Dawson County. Production didn't really start until 1953 in Midland Texas where companies drilled the Spraberry Formation as well as the Dean Formation. Due to advances in technology including horizontal drilling, companies have been tapping into the Wolfcamp Shale and are realizing huge success, creating a giant land grab for mineral rights land leases. The Wolfcamp oil discovery is even causing exploration companies to rework old wells now that horizontal drilling has caught fire. Activity levels in the Wolfcamp now mirror those in the Eagle Ford Shale, Granite Wash, Niobrara Shale, and Bakken Shale.
According to an article in Oil and Gas investor www.google.com/url, IP rates often exceed 1,000 BOE with a 90% oil and liquids mix. This data comes from more than 60 wells drilled. Pioneer projects ultimate recoveries from Wolfcamp horizontals in the range of 350,000 to 500,000 BOE. Operators claim that this region is perfect for an oil shale: high in organic content; filled with silica and therefore brittle; having good porosity and natural fractures; and in the optimal thermal maturity window to product oil. An analyst at Global Hunter Securities stated that:" We expect the horizontal Wolfcamp in the southern Midland Basin to emerge as a major new unconventional oil play in the U.S."
Estimates have the Spraberry Shale holding up to 10 billion barrels of oil as well as 3 trillion cubic feet of natural gas. Global Hunter estimates the play's potential recovery resources range from 4.2 to 8.8 billion BOE, compared to USGS's Bakken estimate of 4.3 billion BOE. Some of the hot spots of the Wolfcamp are in Upton County, Midland County, Andrews County, Irion County, Loving County, Pecos County, Winkler County, Glasscock County, and Howard County.
There are numerous operators exploring the southern Midland Basin Wolfcamp oil shale that may benefit from this new high valuation watermark, including but not limited to Approach Resources (NASDAQ:AREX), ConocoPhillips (NYSE:COP), Laredo Petroleum Holdings (NYSE:LPI), BHP Billiton (NYSE:BHP), Apache Corporation (NYSE:APA), Devon Energy (NYSE:DVN), Pioneer Natural Resources , and EOG Resources (NYSE:EOG).
Approach Resources
Approach Resources, Inc. is an independent oil and natural gas company headquartered in Fort Worth, Texas. Its core operating area is in the Permian Basin in West Texas, where it has drilled over 695 wells since 2004. It targets multiple, oil and liquids-rich formations in the Permian Basin, and operate over 165,700 gross acres.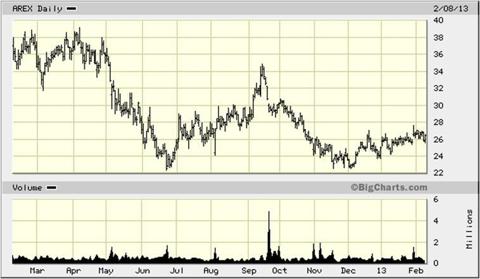 ConocoPhillips
ConocoPhillips explores for, produces, transports and markets crude oil, natural gas, natural gas liquids, liquefied natural gas and bitumen on a worldwide basis. Its portfolio includes legacy assets in North America, Europe, Asia and Australia; growing North American shale and oil sands businesses; a number of major international development projects; and a global exploration program.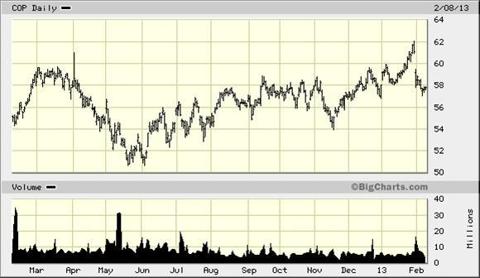 Laredo Petroleum Holdings
Laredo Petroleum is an independent energy company with headquarters in Tulsa, Oklahoma. Laredo's business strategy is focused on the exploration, development and acquisition of oil and natural gas properties in the Permian and Mid-Continent regions of the United States.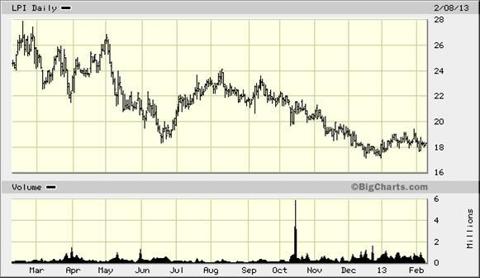 BHP Billiton
BHP Billiton operates as a diversified natural resources company worldwide. The company engages in the exploration, development, and production of oil and gas; mining and refining of bauxite into alumina, and smelting of alumina into aluminum metal; and mining of copper, silver, lead, zinc, molybdenum, uranium, gold, and diamond, as well as development of potash deposits. It is also involved in the mining and production of nickel products, manganese ore, and manganese metal and alloys, as well as in the mining of iron ore, metallurgical coal, and thermal coal.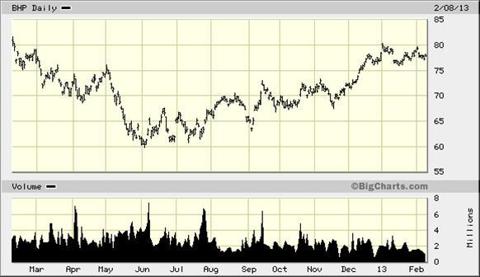 Apache Corporation
Apache is an oil and gas exploration and production company with operations in the United States, Canada, Egypt, the United Kingdom North Sea, Australia and Argentina.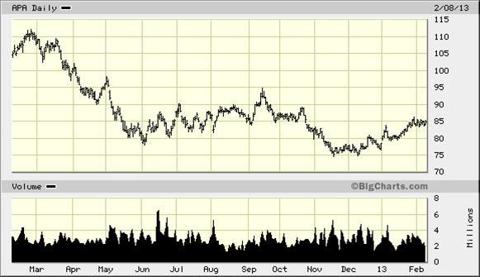 Devon Energy
Devon Energy Corporation is a leading independent oil and natural gas exploration and production company. Devon's operations are focused onshore in the United States and Canada. We also own natural gas pipelines and treatment facilities in many of our producing areas, making us one of North America's larger processors of natural gas liquids.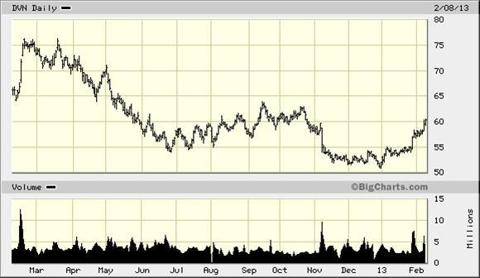 Pioneer Natural Resources
Pioneer Natural Resources is a large independent oil and natural gas company. Pioneer is one of the most active drillers in Texas' Spraberry/Wolfcamp oil field in the Permian Basin and the Eagle Ford Shale play in South Texas.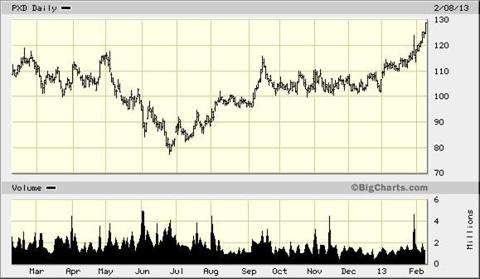 EOG Resources
EOG Resources, Inc. is one of the largest independent (non-integrated) crude oil and natural gas companies in the United States with proved reserves in the United States, Canada, Trinidad, the United Kingdom and China.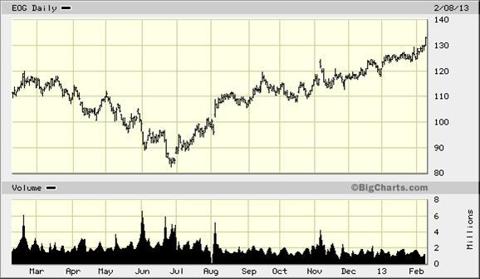 It is challenging to measure how much this new valuation comp may impact these stocks. Determining the exact number of acres in this play and getting a breakdown of producing vs. non-producing Wolfcamp acres is not typically disclosed in public filings. However, given the information, one could estimate that, all else being equal, the companies' non-producing acres in the Wolfcamp are now worth approximately 44% more than prior to this recently announced deal. In addition to this land bump, as these acres are drilled out, the production based on the available data to-date should boost production levels (and PV-10) and be accretive to each respective stock.
Disclosure: I have no positions in any stocks mentioned, and no plans to initiate any positions within the next 72 hours. I wrote this article myself, and it expresses my own opinions. I am not receiving compensation for it. I have no business relationship with any company whose stock is mentioned in this article.