Midwest Energy Emissions: Patented Technology Addresses $9.6 Billion Problem
We recently had a chance to get an update on Midwest Energy Emissions Corporation (OTCQB: MEEC) and their exciting new energy/technology growth story. MEEC develops and employs patented and proprietary technologies to remove mercury from coal-power plant emissions. Its technology has become extremely valuable because of the EPA's new regulations with respect to mercury emissions. The EPA's Mercury and Air Toxic Standards (MATS) rule requires that all coal- and oil-fired power plants in the U.S., larger than 25 mega-watts, must remove approximately 90% of all mercury from their emissions by April 16, 2015, with a potential one year extension to April of 2016.
MEEC's patented technology has been shown to achieve mercury removal levels compliant with MATS at a significantly lower cost and with less operational impact than currently used methods, while preserving the marketability of fly-ash for beneficial use, a roughly $450 million industry annually, making it a highly attractive option for all utilities facing the mandated upgrade situation. In 2012, the EPA estimated annual MATS compliance costs to be roughly $9.6 billion for the 1,100 coal-fired plants and 300 oil-fired plants in the U.S. that fall under this regulation.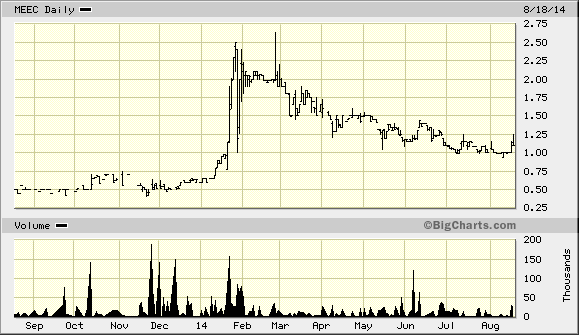 The MEEC Sorbent Enhancing Additive (NYSEARCA:SEA) Technology
MEEC technology is based on a patented process of injecting sorbent and proprietary sorbent additives into coal-burning systems both during combustion and after, so that almost all mercury is oxidized, making it much easier and more economical to remove in the exhaust stack. The ME2C system has the added benefit of preserving the usefulness of exhaust ash (called fly ash) as a cement ingredient, preserving or transforming a potential waste-removal cost center towards a profit center for its customers.
Most current competing injection systems cannot do this at 90% mercury removal performance, and more recently developed competing liquid coal-treatment systems that can preserve usable fly ash create other problems, such as corrosion of steel before the solution has entered the boiler, which requires equipment repair or replacement, and revenue reducing idling of the plant for this maintenance. MEEC systems offer utilities a best in class solution, delivering a mix of low operating cost, low corrosion, high performance mercury removal, and saleable fly ash discharge.
Intellectual Property
Technology underlying the MEEC's systems has been developed through 20 years of innovation and field testing by the Energy & Environmental Research Center (EERC), a partially government-funded institution that employs some 300 scientists and engineers and is based in North Dakota. MEEC holds exclusive licenses from the EERC to 25 patents and patents pending in the U.S, Canada, Europe, and China that all last through 2025, providing the Company with a highly-defensible, long-term patent portfolio.
Revenue Model
MEEC operates under an attractive recurring revenue model, whereby it installs its sorbent additive, and sorbent feeder systems basically at cost, and then sells customers its additives and sorbents at solid 35% - 40% gross margins. Management has already contracted on over $30 million in recurring, annual revenues. In addition, management expects to be free cash flow positive in 2015, with significant FCF generation in 2016.
Recent Updates
During the second quarter 2014, MEEC announced the largest revenue quarter in the Company's history. In August 2014, the Company announced that it had raised $10 million in a private placement. According to management, based on its expectation with respect to significant free cash flows in 2015, the Company does not expect to tap the capital markets going forward as it will be able to self-fund its growth. Over the remainder of 2014 and fiscal year 2015, the Company expects to achieve the following milestones:
Additional customer contract announcements in the U.S. and Canada.
Possible penetration into the very large Chinese coal-fired electricity generation market.
Achievement of cash-flow positive operations followed quickly by positive net earnings.
Markets opening up due to increased global awareness of mercury coal-exhaust toxins.
Investment Opinion
MEEC is in the beginning stages of a large scale commercialization effort and will experience significant operating leverage as it grows its revenue base. At present, the Company has 13 units under contact out of an estimated 850 units nationwide, representing a penetration rate of 1.5%. Based on a market size of $2.5 billion in the U.S., a 10% penetration rate would represent $250 million in revenues, which is conservative given MEEC's best of breed, lowest cost patented technology. At 39 million shares outstanding at even one times revenues, that equates to a per share value of $6.41. Based on comps from the pollution and treatment control sector (2.3x sales), this estimate appears very conservative given all the investment positives and strong value proposition.
In all, the Company is well positioned in an industry with strong, best of breed, cost effective, patent protected technology with high barriers to entry coupled with regulatory requirements which will drive sales. The Company has a recurring revenue operating model with high operating leverage which will drive margin expansion once it is fully scaled. Additionally, the Company is led by a veteran team of energy executives (56% insider ownership) with decades of experience in the space.
Paul Silver

Paul Silver is the Managing Director of Research at Wall Street Resources. Previously he has been in auditing with a Big Four accounting firm in New York City, a sell-side research analyst for two global investment banks in New York City including Salomon Smith Barney and UBS Paine Webber. At Salomon Smith Barney he was a member of the firm's research team covering Real Estate Investment Trusts that was consistently ranked #1 by Institutional Investor magazine. Mr. Silver has written extensively on small cap equities and is a contributing writer to numerous publications is a co-manager of the WSR High Alpha model portfolio which has resulted in a 127.39% average annualized return from inception on March 13, 2009 through December 31, 2013. For more information visit: http://www.wallstreetresources.net/High_Alpha_Performance.aspx
Disclosure: The author has no positions in any stocks mentioned, and no plans to initiate any positions within the next 72 hours.