It seems we Americans love being in love, so much so that we are willing to pay big money for it. In fact, we celebrated Valentine's Day last week to the tune of $20 billion. If you are wondering where the money went we found a handy pie chart to show you last year's breakdown. The average consumer spent over $200 on flowers, candy, jewelry and dining out, not to mention cozy romantic getaways.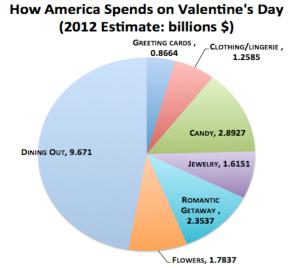 Data from IBIS World, numbers in billions of dollars
From the pie chart above, it does not take a rocket scientist to deduce that dining out on Valentine's Day garnered almost half of the money spent on the holiday. However, I am more interested in bringing to your attention three emerging growth companies that will benefit from your Valentine's Day largesse.
The first company is the Rocky Mountain Chocolate Factory, Inc. (NASDAQ: RMCF). The company has a market cap of $71.2 million and is currently trading at $12.42. RMCF specializes in the making of a range of chocolate candies and other confectionery products. Investors can expect Rocky Mountain Chocolate Factory to benefit on the strength of $2.8 billion in candy and chocolate purchases made in 2023 on Valentine's Day.
The second emerging growth company is 1-800-Flowers.com Inc. (NYSE: FLWS). The company has a market cap of $282 million and is trading up at $4.35. FLWS delivers fresh flowers and a large selection of gift items ranging from plush animals to balloons. The Company operates in three segments: Consumer Floral, Gourmet Food and Gift Baskets, and its BloomNet Wire Service Expect company growth based on the $1.8 billion that Americans spent on flowers last Valentine's Day.
Finally, there is American Greetings Corporation (NYSE: AM). The company has a market cap of $525.82 million and is trading at $16.62. The pie chart above shows greeting cards commanding $0.8 billion in sales last Valentine's Day. AM manufactures and sells greeting cards, gift packaging, party goods, stationery and giftware in the United States, Canada, the United Kingdom, Australia and New Zealand. Do not be surprised to find American Greetings sitting comfortably in the next couple of weeks as it reaps the benefit of millions of ephemeral heartfelt greetings exchanged between loved ones.