The cloud computing market is extending its reach every single day. Small and medium size enterprises are embracing the use of cloud computing services, much to the benefit of companies like Benefitfocus Inc. (NASDAQ: BNFT). The company went public in September 2013, with its stock priced at a price of $26.50. Since then investors have been very bullish on shares of Benefitfocus. Top analysts tip the stock to trade upwards of $50 per share, with Piper Jaffray (NYSE: PJC) the most optimistic with a price target of $57.
Benefitfocus provides cloud-based software solutions for consumers, employers, insurance carriers, and brokers under a software-as-a-service (SaaS) model in the United States. The company provides a platform for employers and insurance carriers to exchange information on insurance products and services, including product types, enrollment, shopping, and account management. Companies are now embracing the use of cloud services due to several reasons. First, cloud services such as SaaS, help companies cut costs, as well as get technical support on the various applications they use. Therefore, Benefitfocus is operating in an expanding industry that can only get bigger, thereby presenting a huge opportunity for growth.
Successful IPO Is a Good Sign
Benefitfocus had what many would call a successful IPO. The company sold to the public 3 million shares at a price of $26.50 per share, but now its trading at around $45 per share (as of December 5). This is despite declining slightly over the last few weeks. Benefitfocus did trade at a price double its IPO pricing. This is the mark of a company destined for greatness. Some may argue that the opportunity is event-driven and thereby may wane with time, but as highlighted above, Benefitfocus is involved in one of the most promising industries. Furthermore, it being a small-cap company means there is a huge room for growth, at least in tandem with the industry. Either way, the company has shown good signs to succeed in the rapidly growing cloud computing market.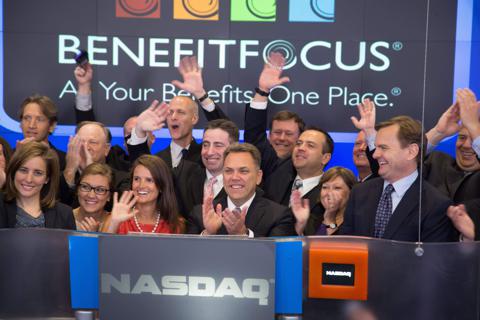 How to Trade Benefitfocus After IPO
Highlights from Recent Earnings Results
In the company's most recent quarter ended September 30, 2013 revenues grew by nearly 30 percent, but gross profit was in-line with last year's performance. Loss from operations increased to $6.7 million from $2.3 million, as research and development more than doubled, while SG&A increased significantly. This led to a net loss per share of $1.08 compared to last year's loss of $0.49 per share. Loss for the nine months stood at $4.14, compared to last year's loss of $2.64 per share.
By the look of things, it is proper to say that the company's performance worsened compared to the same period last year, which should have led to an underwhelming IPO. However, that was not the case as the company rallied against all odds. This indicates the promise presented by the company in the business of cloud computing.
Nonetheless, Benefitfocus will not achieve its obvious potential without a fight. There are direct rivals out there which will be looking to challenge. DST Systems, Inc. (NYSE: DST) and McKesson Corporation (NYSE: MCK) are the two key rivals to Benefitfocus. They both generate billions worth of annual revenues, compared to Benefitfocus' sub $100 million. Nonetheless, Benefitfocus has a better gross margin at 43 percent compared to DST's and McKesson's 17 percent and 6 percent respectively.
Conclusion
Benefitfocus may have gone public three months ago, but its triumphant entry into public trading means that this is more than just an event driven opportunity. Its growth is not about to wane as it has strong margins which should help it generate more income from incremental revenues.