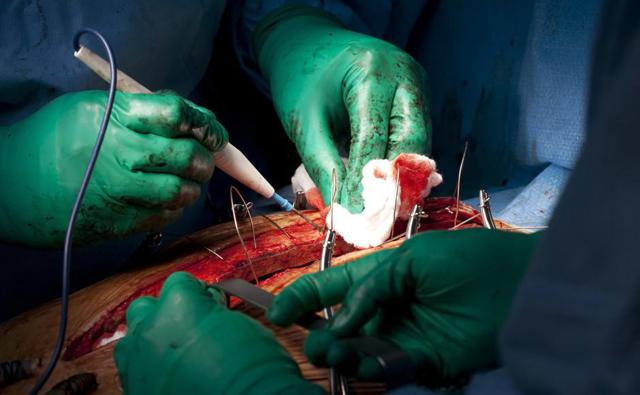 CryoLife Inc. (NYSE: CRY) the Kennesaw, Georgia-based healthcare appliances and equipment provider, has been on an upward trend since mid-July. The company had experienced extended periods of a downward movement between April and June this year, but lately it seems to be heading back to the top after it breached the $10 mark for the first time in late July.
The company, together with its subsidiaries, develops, manufactures and commercializes medical devices for cardio-vascular applications, and preserves and distributes human tissues for transplantation around the world. CryoLife markets its products to physicians globally via several channels including: field representatives, cardiac specialists and independent distributors.
CryoLife posted record revenues for the most recent quarter ended June 2014, as sales increased by 3 percent to $34.7 million. Product revenues also impressed rising 12 percent year-over-year to $20.4 million. Some of its leading brands also grew impressively during Q2 with BioGlue revenue increasing by 14 percent to $15.3 million, while PerClot grew 22 percent from the same period last year to $1.1 million. On the other hand, HeRO Graft revenues edged up 20 percent to settle at $1.7 million. The only downside from the revenue department came from the tissue processing division as revenues declined 6 percent year-over-year to $14.3 million, thereby creating a headwind on the overall growth.
The company has appointed Pat Mackin as its new President and CEO. He is slated to take over from Steven G. Anderson, who is also the Chief Executive Officer, on September 2, 2014.
Current Rally Isn't Over
CryoLife is up 17 percent over the last one month and some investors are thinking of taking some profits. That is not a bad idea at all if you bought the stock a month ago. However, if you bought CryoLife before May, then it might not be a wise decision. This is because the stock is currently upward trending and there are factors that are likely to sustain the trend to higher levels, which means there is still some room to run.
First, the company's EPS is projected to grow by 103 percent this year, 88 percent next year and about 30 percent over the next five years. This is a massive boost to the company's valuation multiple going forward, which could bring the current P/E multiple of 19x substantially lower making the stock more attractive to investors. The company also boasts a current ratio of 5.50 and has no debt on its books, which proves financial stability.
Even at current levels, CryoLife's P/E looks particularly attractive when compared to industry rivals like Baxter International's (NYSE: BAX) 20x, Edwards Lifesciences' (NYSE: EW) 34x, and ST Jude Medical's (NYSE: STJ) 24x. CryoLife's price multiple is also better than the industry average of 25x, which means investors would have a lot to look at before deciding to dump the stock.
CryoLife has also acquired the distribution rights to PhotoFix; a bovine pericardial patch stabilized using a dye-mediated photo-fixation process that requires no glutaraldehyde from Genesee BioMedical. This further widens its distribution network and product portfolio paving the way for more revenue. The launch of PhotoFix is expected in October this year and could deliver amazing results.
Furthermore, CryoLife also announced a quarterly dividend of $0.03 per share payable on September 19, 2014 to shareholders of record a week before the payday. This means that before that date, the stock should continue trading attractively and trending upwards as investors seek to beat the ex-dividend date, which is September 10.
Disclosure: The author has no positions in any stocks mentioned, and no plans to initiate any positions within the next 72 hours.