Herbalife (NYSE:HLF) is a marketing company with a vast distribution channel organization that can quickly bring to market a compelling health related product, especially if endorsed by a known expert in the health industry. One such expert we think would be perfect would is Dr. Oz, who is a part of Oprah Winfrey Network and regarded as one of her Allstars. While Dr. Oz may not be available because of his involvement with Weight Watchers (NYSE:WTW), but one of his showcased nutrition focused Doctors such as Dr. Tasneem Bhatia, Dr. Denise Bruner or others numerous who have been popular guests on his television episodes may just do the trick for Herbalife. We have not spoken to these Doctors but have spoken to one Doctor and hypothetically asked the question if he or she was interested in a deal with HLF and the answer was yes.
We all have seen the tremendous bull and bear battle between Carl Icahn and his former friend David Ackman on the battlefield named Herbalife.
Maybe, just maybe, Ackman has given HLF a very good chance to move the HLF to a higher level. Something Cisco's John Chambers describes as a "near-death experience" in an interview describing a series of conversations he had with Jack Welch.
So maybe this is the proverbial "silver lining" in this saga for HLF. In HLF's case, a great product and a great endorsement by a celebrity doctor would do wonders for their marketing troops. If Dr. Oz of afternoon syndicated network TV fame were to get behind a line of products or for that matter one of the Doctors he has "blessed" on his show may do the trick as well. The line could include all of the new natural appetite suppressants such as green coffee bean extract, raspberry ketones, saffron extract and the Akai berry juice all under a celebrity Doctors protocol, this could be a blockbuster.
We are long HLF because we like the management team led by Michael O Johnson, who led Walt Disney International before coming to HLF. Michael certainly knows how to sign up "celebrities" with his background.
We want to look at the current short interest from NASDAQ: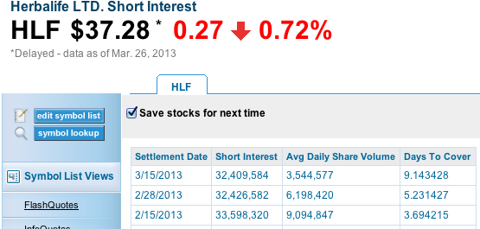 As you can see, the short interest went down by approximately 1.172 million shares and 17 thousand shares in the last two reporting periods respectively. But the days to cover ratio went up because of the drop in average daily volume. Clearly the stock's short interest is at elevated levels since the Ackman short campaign. The stock is subject to a squeeze at any time if Carl Icahn wants to take it private or has some other high dividend or spinoff possibility to payout shareholders. We checked with our short desks and found the negative rebate on borrowing the stock is 2.5 to 3% annual cost to borrow. One large firm does not have any available which shows that some holders of the stock are starting to recall their shares into cash accounts.
Legal and Miscellaneous Issues
One of our SA followers has filed a complaint with the SEC against Ackman. Here is an excerpt from his complaint:
"... I noticed earlier today that the first search result when Google'ing "Herbalife" is the following: "Herbalife-Pyramid Scheme? -factsaboutherbalife.com". Ackman's campaign link is displayed before the company's website when searching on Google! This just does not seem right to me. Ackman's scheme has developed into an advertising campaign."
We checked ourselves and found the following: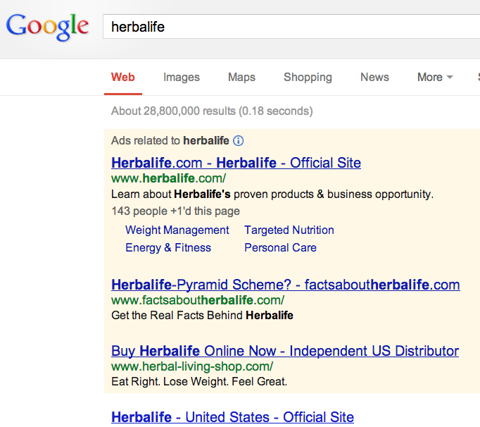 The placement had moved to number two. But, he is right because the shaded areas are "paid for placements" on Google. We will keep you posted on his complaint with the SEC on this matter which he also claims is market manipulation of HLF by Ackman. Perhaps he can post it in its entirety as a comment on this article.
Many here on SA have opined on the business practices of HLF. Here are two recent negative and positive articles respectively:
Herbalife: 5 Common Sense Arguments
The World Is Fat: The Law Of Supply And Demand And The Western Diet
The first article tries to articulate a pyramid scheme for HLF, as he says,"leads me to conclude that Herbalife is engaged in a pyramid scheme which is a form of "business opportunity" fraud." We think he is wrong. HLF has been mired in disputes numerous times since its founding in 1980 by Mark Hughes and documented in Wikipedia and has survived. Currently, it has a SEC investigation underway. People are enchanted by the "pyramid scheme" or maybe more so with "Ponzi scheme". We think pointing to Cyprus for the moment is appropriate. No, it's not the next HLF territory. Look at the banks. They take peoples deposits. But when everyone wants their money at the same time, they can't possibly perform. Are they a "pyramid scheme". Isn't that what Ackman tried to do with HLF by falsely accusing them of being a fraud?He tried to create panic. Is HLF an aggressive marketer? Is it vastly different than Avon, Amway, Tupperware or Facebook (NASDAQ:FB) invite your friends campaign for that matter? We think not. In fact, Ackman looks to us as the "boy who cried wolf" for an apparent altruistic cause which we still can't discern.
Conclusion
The short squeeze capability in Herbalife can come at any moment. It's a buy for sure and not a short. Maybe Carl Icahn is using his pursuit of Dell Computer (NASDAQ:DELL) as a decoy to amass more shares of HLF at cheaper prices and simultaneously making Ackman thinks he is distracted.
Disclosure: I am long HLF.