I have not written an article since the most recent on piñata stock Salesforce.com (NYSE:CRM) on December 3rd. I must admit, I am more bearish on CRM after fielding the scant but telling comments on the article. I also must admit, I caught an addiction shortly thereafter which has been abruptly put on hold by the provider of the narcotic-like product: Netflix (NASDAQ:NFLX). I just finished episode 13 and must say that not being able to go on to the next episode in 20 seconds is perhaps the most difficult thing since quitting cigarettes. Besides being bullish on NFLX because they not only know how to create content that is a very likely a by-product of their meta-data, it shows that the US is very much a country akin to addiction, kicking addiction and the home of the second chance. NFLX is a must have.
Wall Streets new current media mania is the jockeying by the cable companies, most recently with Time Warner Cable (TWC), consolidating and preparing for the 'cutting of the cord' by subscribers. I think this has been stoked by NFLX getting into the content business so successfully and more importantly to the chagrin of the cable companies. We have written about this in the past as it relates to Charlie Ergen's DISH (NASDAQ:DISH) and NFLX before and think Charlie is more than candid about whats going on the happenings in his industry. If the popularity of House Of Cards doesn't send a shiver down the spine any cable executive's spine, then they are lying. Meantime, Charlie's gambit on broadband wireless and its related focus on cord cutters also seems to be working as we have also opined before here at SA.
We also have had an opinion on BlackBerry which has certainly had its ups and downs this year. Fellow SA contributor Quoth The Raven has a written a nice piece on BlackBerry (NASDAQ:BBRY) which was themed on President's unwavering use of the BBRY device for security's sake. The use of the BBRY device by the House Of Cards star, Senator Francis Underwood, played by actor Kevin Spacey, is captured by our screen shot below: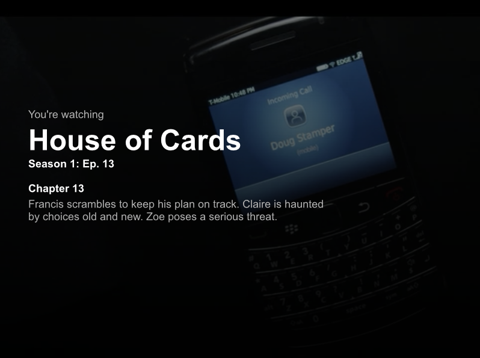 The undertone of this product placement in the popular series makes clear that the BBRY device is used by a powerful breed of key opinion and policy makers. This image is something which will not easily wash away. Moreover, new BBRY CEO John Chen is certainly driving home the message that security is of utmost importance. Also, it is also clear that the recent $1 billion cash raise in the form of a convertible debt offering led by Fairfax in Canada was not to pay current bills, but remove any doubt of a coming cash crises. Yes, BBRY has lost a lot of users. But not all of its users. And the BBM cross platform messenger is alive and kicking. I and others here at SA are fans of the BBM potential. There are many add-ons, new features and services that BBM's 80 million users can be offered in the future that can bring revenues to BBRY. BBRY continues to unwind its inventory of Z10's in creative ways such as this email offer pictured below: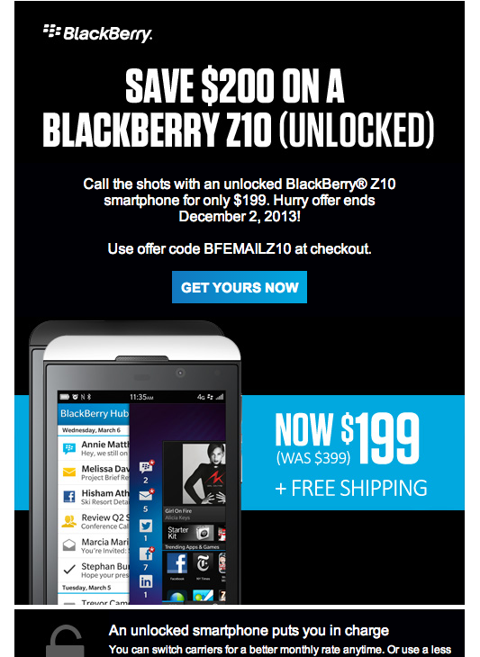 There is an old saying that keeps coming to mind especially as it relates to BlackBerry's old nickname "CrackBerry": 'old habits die hard'. In our opinion, the naysayer's calling for BlackBerry's death should watch an episode of NFLX's House Of Cards and rethink their prediction. With BBRY shares in the mid $5 range, it's priced more like an option than an outright share. At this price, BBRY may be the perfect 'stocking stuffer' for a youngster with a long time horizon. Here is BBRY's newly released short interest showing its highest level since June: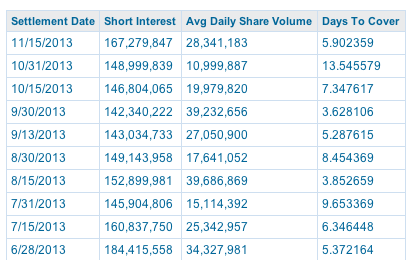 In fact, investors may want to take physical possession to limit supply for overzealous short sellers in this name.
Disclosure: I am long BBRY. I wrote this article myself, and it expresses my own opinions. I am not receiving compensation for it. I have no business relationship with any company whose stock is mentioned in this article.
Additional disclosure: I have been long NFLX,DISH and want to be short CRM and may enter and reneter these positions shortly.