The Oil & Gas sector has been one of the most dynamic within the market over the past few years. Domestic energy production has exploded over the last half dozen years and the United States is set to become the world's largest oil producer in 2015.
A good portion of the major winners in my portfolio as well as myriad topic ideas for my articles on TheStreet.com and SeekingAlpha have come from this space over the past few years. I think it is an area that growth and income investors should pay close attention to for possible additions to their portfolios. We are still in the early innings of this energy production expansion in North America and many "winners" will emerge in coming years.
There is so much going on within the sector it is sometimes hard to keep track of all the significant news in the sector on a daily basis. In an attempt to help investors uncover these opportunities, I am going to produce a new feature called the "Energy Sector Roundup" which I plan to publish on a regular basis. It will highlight major events & announcements within the industry as well as key analyst commentary and ratings changes. I will also profile a possible long idea at the end of each piece.
Without further ado, here is the Energy Sector Roundup for 11/19/2013.
Key Analyst Moves & Comments:
Goldman Sachs goes negative on a couple of oil services plays. The investment bank moves from "Neutral" to "Sell" on Hornbeck Offshore Services (NYSE:HOS) and Netherlands based Franks International (NYSE:FI) and lowers their price targets on each significantly.
For Hornbeck, the stock has appreciated more than 50% this year. Might be time to ring the bell on this play for the time being especially as consensus earnings estimates have started to come down in the last month for FY2014. Citigroup has a different take on Franks. It just reiterated a "Buy" rating on the shares last week with a $35 price target on the stock. I am neutral on the shares and I think there are better bargains in the space.
Monday just was not a good day for oil services stocks overall as Global Hunter downgrades myriad names such as Halliburton (NYSE:HAL), Superior Energy (NYSE:SPN), Key Energy (NYSE:KEG), Pioneer Energy (NYSE:PES) and Basic Energy (NYSE:BAS). Global Hunter states investors are too optimistic on cap ex growth and prospects for margins. I still like Halliburton here for reasons I articulated late in October. However, given the nice run over the last six months where most of these names have easily outperform the S&P (See Chart), it might be time to take some profits in the sector.
(click to enlarge)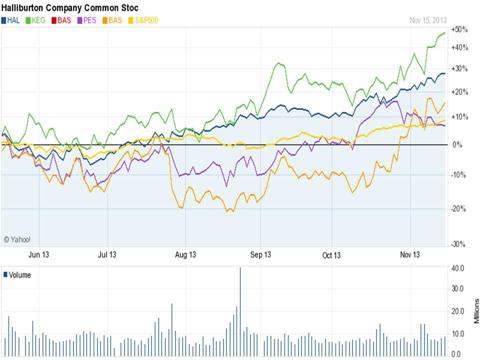 Click to enlarge
On the brighter side, small E&P concern Gastar Exploration (NYSEMKT:GST) powers higher as Imperial Capital reinstates the stock as an "Outperform" with a $6 a share price target, ~30% above the current stock price.
Citigroup reiterates its "Buy" rating on energy logistical limited partnership Tesoro Logistics (NYSE:TLLP) and it also raised its price target a buck a share to $60. The company also announced it is doing a secondary offering of 6.3mm new shares to raise proceeds to purchase additional energy terminals & assets. I would use any drop as a good entry point on this 4% plus yielder with exploding revenue growth.
Major Announcements/Events:
Oil & Gas Master Limited Partnership QEP Resources (NYSE:QEP) has responded to activist investor Jana Partners recent demands stated it will continue to look for ways to enhance shareholder value. Jana has a 7.5% stake in QEP and wants the company to separate its midstream businesses. Barron's recently published a positive piece calling the shares "attractive". Definitely one to keep an eye one.
Drilling at the huge offshore discovery off of Israel "Leviathan" is delayed by at least a quarter. Most impacted by delay should be Noble Energy (NYSE:NE) which owns almost 40% of the field. Given the importance to Israel's economy, I expect issues to get resolved in short order; but still a minor negative for Noble until resolution is complete.
Stock of the day:
Our stock of the day is Helmerich & Payne (NYSE:HP). The company provides contract drilling services to the oil & gas industry. It supplies drilling rigs, equipment, personnel, and camps on a contract basis to explore for and develop oil and gas from onshore areas and fixed platforms.
The stock was nicely left out of all the ratings downgrades across the oil services sector on Monday. In fact, Citigroup actually hiked its price target to $89 a share from $82 previously yesterday on Helmerich & Payne. The shares are also up more than 75% since I first profiled the firm in July 2012.
Helmerich & Payne beat expectations nicely on the top and the bottom line when it reported quarterly results late last week. It was the seventh straight quarter the company has beat the bottom line consensus estimate. The shares are still reasonably valued at just over 13x forward earnings and they also provide a 2.5% dividend yield.
Disclosure: I am long HAL, HP. I wrote this article myself, and it expresses my own opinions. I am not receiving compensation for it (other than from Seeking Alpha). I have no business relationship with any company whose stock is mentioned in this article.