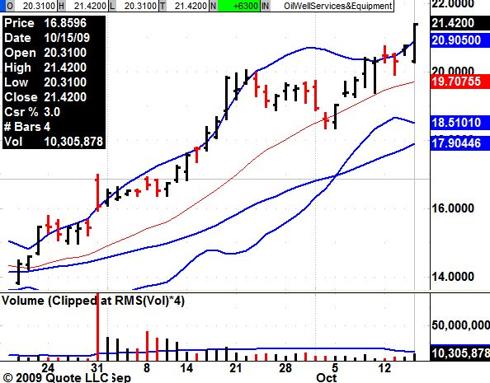 Click to enlarge
The classic "hourglass" Bollinger Band pattern is present in many oil stocks.  BJS is one of the most boisterous with a solid uptrend.
Many of these oil service stocks have fantastic patterns:  WFT, HAL, SLB, BJS, PTEN, BHI, NBR, NOV, SII, HERO, RIG, NE, CAM, RDC, PDE, HLX, ESV, DO, MDR, PDS, FTI, GLBL, POWR, DRQ, ATW, PDS.
Here are Oil & Gas Operations stocks, most of which seem to have rather eccentric patterns, but nonetheless have surged on heavy volume, and in many cases broken out.  Here is a list of my favorites:  WNR, ATPG, KWK, TSO, WLL, GXMR, FST, KOG, PQ, ROYL, PXD, HOC, VQ, SSN.
Disclosure:  WFT call options, Long HERO, VQ, SSN