To be prepared is half the victory.  To be forewarned is to be forearmed.  Do not take lightly the warnings of a volatility reversal.  Two weeks ago, only one stock was added to the model portfolio, and I warned of a choppy market ahead, and a week later I warned of an impending volatility reversal, and a breakdown came two trading days later on Tuesday (see below).
Despite last week's mess, one of the stocks added to the model portfolio went up over 17 points, which was well over 20% in one day, including the gap.  It ended up 13.83 (net) and the position is up 15.28% at Friday's close.  That stock was MicroStrategy Inc. (NASDAQ:MSTR).
A reoccurring theme has been to watch the model portfolio for signs of weakness.  Such weakness represents a possible sell-signal because we use it as a "market gauge."  Such weakness has now reared its ugly head to an even greater extent than the week before.  Even apart from this microcosmic market inspection, a basic superstructural examination (market structure) shows over 3,000 sells to 200 buys.  This is not a good ratio.  Look at one such structure, the MDY (Midcap SPDR) that broke down below the trend line (also a channel line) on Tuesday of last week.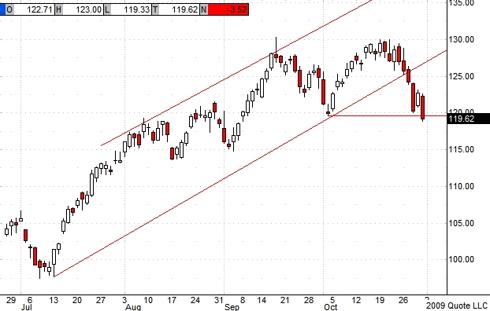 Depending on your time frame and your investment strategy, many of your positions should have been stopped out.  I am posting the model portfolio for purposes of illustration (some should have already been stopped out.)   We are not currently proposing any new buys.  Also depending on your strategy, perhaps half of the winning positions should have been sold after a 15-20% gain.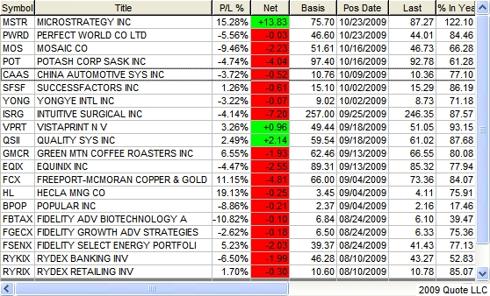 Waste equals more debt.  The "Cash for Clunkers" U.S. Government program cost taxpayers $24,000 per vehicle sold per Edmunds.com data.  Can you imagine the government waste waiting for us with the upcoming "health care overhaul."  For more Halloween Fun, visit:  www.cagw.org
The bond market never did believe in this equities rally all summer.  Now we will see if they were right.  Is our economic "recovery" built on rock or straw?  Economic vapors, smoke and mirrors, economic stimulus, government waste, government debt, taxpayer burden....doesn't look too promising, or stimulating.

Blog:  Maximize401k.wordpress.com