The following are selected highlights of a research report by Anomalous Investments Limited ("AI"), dated April 9, 2010, on Sprott Resource Corp (OTCPK:SCPZF).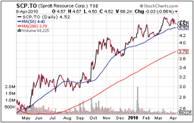 Net Asset Value (NYSE:NAV) of C$ 5.35 per share (US$ 5.34 per share), or C$ 515 million (US$ 514 million).
Sprott Resource Corp currently trades at 0.84 of NAV.
SRC maintains an extremely healthy & liquid balance sheet.
Several value creation opportunities in 2010, including the potential IPO of Stonegate Agricom, its phosphate subsidiary.
Management & insiders own 10.7% of the shares in the company.
SRC maintain an active share buyback program.
Based on the above, AI states that Sprott Resource Corp is a "value investment" in the natural resources industry.
Disclousure:
  AI owns shares in Sprott Resource Corp.
Matthew T. Schroeder is the President of Anomalous Investments, an independent, value-added investment research company based in Hong Kong, focused on finding small, undiscovered Special Situations in the natural resources industry. AI's goal is to identify top centile (1%) investments, on a risk/reward basis, in the natural resources industry. Particular focus is on gold, silver, oil & gas and agriculture. Mr. Schroeder can be reached at matthew.schroeder@anomalousinvestments.com.
Disclosure:
Long SCPZF