There was a lot of movement today after David Einhorn revealed at the Value Investing Congress, that he was short Chipotle Mexican Grill (NYSE:CMG). As investors took notice, we saw the price of CMG drop from 320 down to 290 before ending the day at 302.96.
There was no mention of when or where Einhorn started his short position, but technical clues reared their heads just before the drop in April of this year. So instead of jumping in and hoping that you can capitalize on his trade, you might want to ask yourself how far along his shorts have come and how far would it go. Is this a ploy to get amateur investors in while the big boys exit the game? Are there further downside to come to be able to make a decent profit?
Lets analyze this in a pure Technical and Time Frame Trends, and hopefully we can add some of those extra sides of Guacamole on our next visit to CMG.
Trends is not a simple channel or direction. Time also factor into how far and how fast it goes. There is always a saying you are probably familiar with "The Trend Is Your Friend", but do you really know how to use it? Most will say a loud YES. But for you out there with an open mind, imagine 3 types of vehicles traveling the same road. A Motorcycle, Car, and a Bus. As they travel down the road each vehicle can only perform as much as their ability will allow them. For example Speed, and Turns. A motorcycle can pull away fast it can turn on a dime, the car on the other hand can also pull away fast but wont be able to turn as fast as the motorcycle. Now lets take a look at the Bus. Its not on slow in acceleration, but it also needs more room to turn. This is the same concept that must be applied to the time frames of your choice in this case we will use the daily, weekly, and monthly.
When a daily indicator moves, it moves for days or weeks. When a weekly indicator moves, it moves for weeks or months. Lastly when a monthly indicator moves, it moves for months or years. So keep this valuable piece of tool to trade.
Back in April of this year we saw on a monthly Stochastic a cross down from overbought condition. We can consider this for now as our main trend, but how do we know that this down-trend will continue its course? The clue lies on the weekly trend and where was it when the monthly Stochastic crossed in April? Also in overbought territory, and diverging with the prices. The same rule applies to determine if the weekly Stochastic will turn down, and one must look towards the Daily charts to see where this indicator is. Therefore looking at the daily we see a price divergence with our Stochastic indicator which allows us to short this stock by mid April.
Now the key to this trade is to ask yourself how long you plan on holding this for. Are you a day-trader?, a swing-trader? or a long-term investor? Don't let anyone tell you where they think its going because there is one data point that they are not disclosing to you, and its not because they don't want to tell you or that they have a secret that allows them to better their odds. It's because they do don't have a clue. So as a piece of advice I gave above your trading style has to match the movement of either the Daily, Weekly, or Monthly time frame where daily charts will only trend as far as days to weeks, and weekly trends weeks to months, and monthly from months to years. So to finish this off, we have determined that mid-April was a top of some sort as the daily divergence has enough momentum to push the weekly indicators down, and aswell as the weekly momentum pushing the monthly indicators down aswell. See for yourself...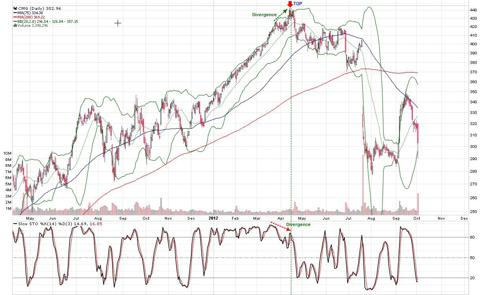 Daily chart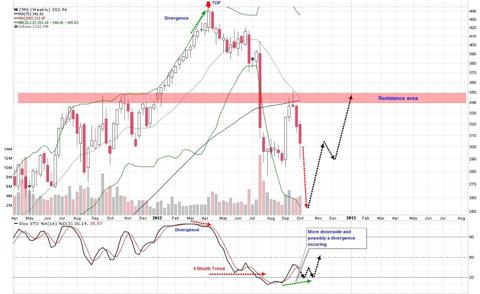 Weekly chart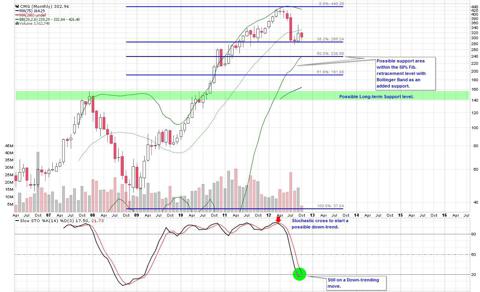 Monthly chart
As a EW'r the pattern I see to be the case for this stock is a 5 wave Expanding Diagonal Triangle. which could also be counted as Wave 1 or A. With an expected ZigZag move up for a Rally. But remember that one must react to the signals instead of speculating as to where its going. This small but effective rule could be what separates the rich from the pauper.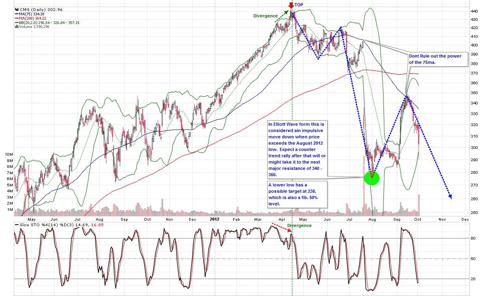 So in conclusion, we now know that today's call by Einhorn has a potential 64.3 gain on the short side. The question is would you enter here or let the pattern and trend progress back up after it had made a new low then establish a shorting opportunity again. The answer... It depends on what time-frame you feel most comfortable to trade at. For more info please visit www.Tfaat.blogspot.com
Best of Trading..
Disclosure: I have no positions in any stocks mentioned, and no plans to initiate any positions within the next 72 hours.