When the AP's twitter password was stolen by a social engineered "phishing" scheme and the hacker posted a breaking news update to the AP's feed that an attack had taken place on the White House and the President was injured it caused a sudden panic selloff that flash-crashed the stock market. Today, once again, we had the negligence of a news organization cause a flash-crash in the market, costing those investors who rely on important breaking financial information, such as the earnings release of a $65 Billion company such as Facebook ("FB").
Today TheStreet.com hosted a live blog to release the FB earnings information as it became public. TheStreet.com's users are largely investors with a stake in these numbers and, given how quickly the stock can move on these announcements, are ready to trade based on them. Well, Chris Ciaccia of the TheStreet.com was the first to report the live earnings release information (5-minutes before it was released on FB's investor relations website) and he stated "12 cents and $1.058 billion in revenue" to the entire world. This was $400 million below the actual number of $1.458 billion, and almost 28% below the consensus expectation of $1.44 billion in revenue. Needless to say, the market reacted. FB dropped over 3% almost immediately in afterhours trading. How could FB have missed so badly? Shortly after, others, like TV channel CNBC reported their information, which was correct, of $1.458 billion, a consensus market beat. However, the damage had been done for many investors who sold relying on the information provided by Mr. Ciaccia and TheStreet.com.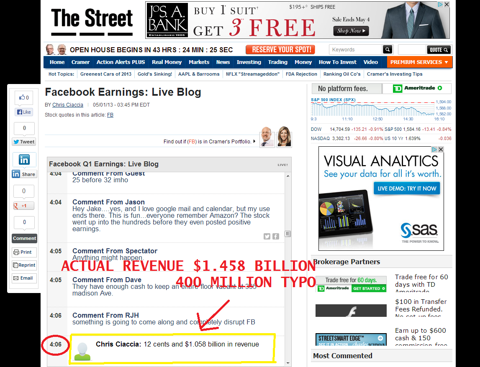 Although the live blog participants' were flabbergasted (and suddenly poorer) Mr. Ciaccia responded to their criticism by stating "Yes, it was a typo. It happens." Anyone relying on news organizations for their information has a justified expectation that the organization will be accountable in the way that they report or manage their information. The AP, and much of the media (in a move widely observed to be "protecting their own"), responded to the Twitter password stealing as the fault of Twitter not being secure enough when it was obvious the hack was not done on Twitter's side and the AP had failed to secure its own information from this kind of foreseeable threat. Here, Mr. Ciaccia was incapable of insuring that TheStreet.com's breaking news earnings update was not a "typo" before pressing enter. There was no hacker here, there was no password stolen, there was only a reporter with information who failed to look at his screen before hitting enter on an item of information that TheStreet.com had encouraged all of the internet to get from them and rely on to determine their financial decisions.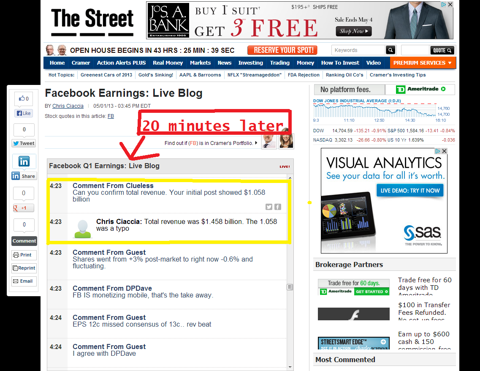 Of course, investors will trade on rumor, speculation and many types of information that may not be reliable, however, when the information is disseminated as being factual and authoritative--the times that we should feel the most confident that our trades are rational--there is currently no accountability for what results when negligent errors are made. I hope this post sheds some light on the problems we have seen lately, and are most likely destined to see in the future as the news becomes more democratized, but also more prone to error and mistake, that should result in organizations becoming more accountable, instead of the current status quo of not taking responsibility, shrugging and saying "It happens."