Today we've launched content for
Symantec
which makes money primarily by selling three types of software:
Norton AntiVirus software for consumers
Storage software for businesses
Security software for businesses
Symantec is known amongst consumers mainly for its Norton brand of security software products such as Norton AntiVirus, Norton Internet Security and Norton 360.  We estimate that Norton constitutes about 30% of Symantec's value.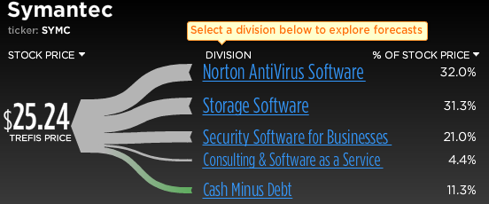 Click to enlarge
Source: Trefis.com
The Norton segment is Symantec's most valuable segment for the following reasons:
High Share in the Consumer Internet Security Market
Symantec is the leader in the Consumer Internet Security Market with a market share of 53%, though its share has declined somewhat since reaching 56% in 2005. We believe that Symantec's share in $5.6 billion Consumer Internet Security Market will be around 45% by the end of Trefis forecast period.  In comparison, Symantec has 18% share in the $13 billion Storage Software Market and we believe that this will increase to 21% by the end of Trefis forecast period.
We believe Symantec may lose market share in the Consumer Internet Security Market due to
High pricing of its products relative to smaller players
Its reputation of being a computer resource hog, which continues to frustrate users

High EBITDA Margin
Symantec benefits from a high EBITDA margin of 46% on its Norton Antivirus Software products. In comparison, the EBITDA margin for Storage Software currently stands at 34%.
Disclosure:
No positions