Dish Network is launching a comprehensive technology solution for its customers that will allow them to gain access to recorded and live shows over the internet. The company is using SlingBox technology developed by Sling Media with Echostar. We believe that following trends are driving this offering.
Differentiation: The move comes amidst heating competition in the pay TV market. A noticeable trend is that each player is trying to differentiate itself in the market through features rather than through pricing. Comcast is offering free online on-demand video service and DirecTV is bringing 3D programming to market.
Online Video Growth: The consumer preference is shifting to online viewing. Availability of cheaper movie options like Netflix and sites such as Hulu and YouTube offering free videos, is driving a significant amount of audience online. Dish Network is attempting to offer similar viewing options for customers with its own online offering.
The advantage of Dish, over Comcast is that all of Dish Network's content will be available online whereas only limited amount of Comcast content will be available over internet.
We believe that ability to view TV content anywhere and anytime, on laptop, TV or mobile will turn out to be a powerful incentive for customers and help Dish in maintaining market share that is increasingly under threat.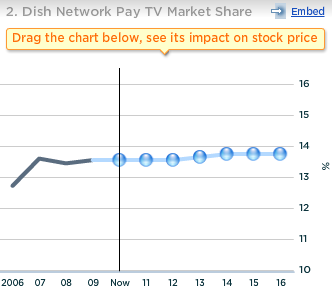 Disclosure:
No positions