Market Watch Bullish Percent Index for Oct 5, 2012
Last week the market took a breather. On Monday, the market gaped up higher in morning but continued to go down as the day progressed. During the midweek, the market tried to come back and it did succeed on Thursday and Friday to touch the high of the Monday. But at the closing on the Friday, the market couldn't hold onto the gains and closed about unchanged/lower depending upon which indices you follow. The BPI (Bullish Percentage Index) for all the major indices are very close to their local highs set within last 2-4 weeks. The large cap S&P 500 Index is strongest but the midcap S&P 400 and smallcap S&P 600 are showing some weaknesses as these have rolled on the downside slightly.
In S&P 500 select sector ETFs, the technology sector XLK and industrial sector XLI show some weakness as both have turned down from low 70s value are now in low 60s.
In S&P sector funds, XES (SPDR S and P Oil and Gas Equipt and Servs) sector is showing weakness along with XES (S&P Semiconductor) and XTN (S&P Transportation).
Market Watch and S&P Sectors Bullish Percent Index for 20121005
Name
BPI
1Dy
Ch
2Wk
Ch
4Wk
Ch
3Mt
Ch
6Mt
Ch
Hi
3Mth
Hi
1Yr
Lo
3Mth
Lo
1Yr
NYSE
72
0
-1
3
15
2
74
80
57
19
NASDAQ
59
0
0
4
9
-2
59
66
49
20
DIA Dow Jones Industrial
86
0
-1
3
16
6
90
97
70
20
SPY SP 500
78
1
0
4
23
3
79
85
56
19
QQQ NDX 100
71
2
2
4
28
-8
71
85
39
24
IJH SP 400
69
0
-4
-1
15
-3
74
85
55
13
IJR SP 600
65
0
-1
2
13
-5
68
78
49
17
OEF SP 100 OEX
80
0
-2
-1
15
0
85
93
66
20
IWB Russell 1000
74
1
-2
1
19
2
78
86
56
16
IWM Russell 2000
65
0
0
5
9
1
65
71
53
18
SPY SP 500
78
1
0
4
23
3
79
85
56
19
XLB (Basic Ind Sector)
77
0
0
6
17
21
77
83
53
6
XLV (Cons Serv Sector)
85
0
4
8
20
-6
85
98
62
12
XLP (Cons Stap Sector)
80
4
4
4
14
-5
80
90
65
35
XLY (Cycl/Trans Sector)
78
3
5
10
32
3
78
86
41
16
XLE (Energy Sector)
93
0
-3
11
49
57
96
96
49
2
XLF (Financial Sector)
81
0
-3
0
16
-3
85
90
62
9
XLI (Industrial Sector)
67
0
-8
-2
17
3
76
90
52
15
XLK (Technology Sector)
64
1
-6
-2
30
-15
71
82
34
29
XLU (Utilities Sector)
84
0
0
-6
-3
7
90
91
84
61
XME SPDR S and P Metals and M
63
0
-3
21
37
29
66
79
21
1
XOP SPDR S and P Oil and Gas
83
2
-1
7
32
50
84
84
51
1
XPH SPDR S and P Pharmaceutic
70
1
0
0
-3
-6
78
89
67
34
XBI SPDR S and P Biotech
68
0
2
7
-6
14
78
78
50
22
XES SPDR S and P Oil and Gas
64
0
-15
-8
33
20
88
88
36
7
XHB SPDR S and P Homebuilders
81
3
0
12
25
9
85
93
48
3
XHE SPDR S and P Health Care
83
-1
1
3
14
-1
86
87
58
18
XSD SPDR S and P Semiconducto
39
0
0
-9
18
-22
50
67
19
19
XTL SPDR S and P Telecom ETF
58
2
-2
4
19
-2
60
80
35
16
XTN SPDR S and P Transportati
47
3
-6
-6
-17
-22
67
95
42
5
EUFN Ishares MSCI Europe Finc
59
0
-1
3
21
-10
62
76
33
25
XBD NYSE Arca Broker Dealer I
55
0
0
10
19
-36
64
91
18
1
FIN NDX Financial 100
82
0
8
14
18
6
82
82
62
19
(click to enlarge)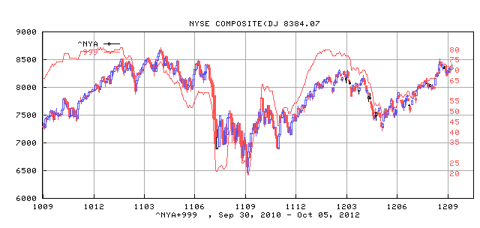 Click to enlarge