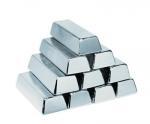 As Fed Chairman Ben Bernanke testified to the US Senate today that economic uncertainty had grown, I decided to make an intriguing play on silver. The transaction is eyebrow raising in two regards: first, that I made a long investment in silver, and second, in that I employed a three-legged derivative transaction.
Silver is a real asset that can be used for the manufacturing of goods or as an exchange of value (money). However, its primary use and valuation depends on production, or more broadly, economic demand. Although a global slowdown is probable, industrial production in the US has been chugging along, and China's growth rate is still around 7%.
Silver Wheaton SLW
Silver Wheaton is a silver streaming company. That is, it makes upfront, preproduction payments (investments) for the right to purchase a fixed percentage of future silver production from a mine. To date, the company has entered into 14 long-term silver purchase agreements and two long-term precious metal purchase agreements, relating to 19 different mining assets, whereby Silver Wheaton acquires silver and gold production from the counterparties for a per ounce cash payment at or below the prevailing market price.
For example, last year, Silver Wheaton's average silver cash cost per ounce sold was $3.99, whereas its average realized silver price per ounce sold was $34.60. Likewise, the company's average gold cash cost per ounce was $300 while realized gold price per ounce sold was $1,609 per ounce.
Management plays a huge role in this business. Although silver volume and price influence Silver Wheaton's future, the company is still well positioned. Many of the company's investments have already been made, and the company has a respectable operating record. Furthermore, its mine investments are located in politically stable parts of the world and are aligned with major industry players, such as Barrick ABX and Goldcorp GG. Teaming with gold miners makes sense since 70% of worldwide silver production comes from copper, lead, zinc, and gold mines. Reasonably Thinking, Silver Wheaton can take delivery of other miners' unwanted silver inventory and redistribute it.
A handful of smaller items serve as positives for shareholders:
Management continues to search for future opportunities as the company has a few small equity stakes in publicly listed mining companies for strategic purposes
Silver Wheaton maintains a healthy cash position and overly sufficient liquidity ratios
Shareholders receive a dividend that is linked to operating cash flows, which protects long-term shareholders
The company is incorporated in the Cayman Islands & Barbados and therefore subject to minimal income tax
Risks to investing in Silver Wheaton center around macroeconomic activity. If a global slowdown intensifies, demand for silver could wane, bringing down silver prices. Such a scenario would adversely affect Silver Wheaton.
Derivative Transaction
Today's transaction consisted of three option legs, all of which expire in January 2014. I sold 2 puts at $20, bought 1 call at $33, and sold 1 call at $50. This custom trade enables me to get paid while bearing downside risk and provides upside potential. This can be thought of in two ways:
A synthetic long, strike prices of $20 and $33, funded by a cap at $50 and selling an additional put at $20
A $50/$33 call spread funded by selling two put options at $20
Looking at the chart below, at expiration, I will make $350 if SLW is between $20 and $33. My gains are positively correlated with SLW, in a linear fashion, up to a share price of $50. On the downside, my breakeven point is $18.25 per share, at which point I would owe $2 per penny movement below $18.25.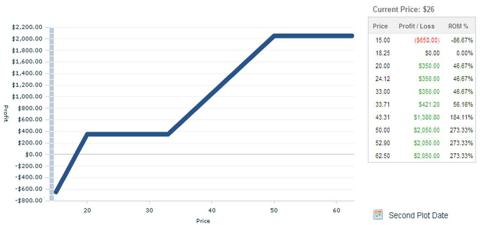 (chart and above analysis account for $45 worth of transaction costs incurred to initiate the three legs)
| | | | | |
| --- | --- | --- | --- | --- |
| SLW Jan14 20 Put | short | 2 | 3.17 | $ 618.98 |
| SLW Jan14 33 Call | long | 1 | 3.27 | $ (341.97) |
| SLW Jan14 50 Call | short | 1 | 0.88 | $ 73.02 |
Initial intake = $350.03
This article can also be viewed at www.reasonablythinking.com.