Well rather than analysing about who is right or wrong (Goldman vs SEC ) I would rather focus on speculating if this could impact the stock market and result in at least a 10% correction.

So why this could get worse ?

SEC strong case ? - A ex employee of Paulson & Co.  - Paulo Pellegrini has assisted the SEC in this case. SEC seems to be taken good advice of the adage to FIGHT FIRE with FIRE. The GS employee`s email can also a key evidence. The email was sent on Jan 2007 and the Abacus deal was closed on April 2007 proving that even before the deal closed GS knew that the underlying securities would go bust..
Impact on Goldman ?- Juxtapose the recent TOYOTA case - Just like Toyota was attacked by (1) The regulators ( Not only US but spread to various countries) (2) Competitors (3) Consumers, GS could face attacks from all these three simulataneusly and as we have seen this seems to be never-ending. Today SEC has accused , tomorrow EU regulators could use this to strike the iron when it is hot. see GS may face UK , EU Probes Customers could flood GS with withdrawl redemption requests.
Obama would use opportunity this as a weapon to drum up support for his falling rating and maybe financial reform. The much dreaded `Volckers Rule` would also come back to haunt the markets.
Markets could finally give in to a much needed technical correction - Technically markets have been in overbought territory since months. Some contratrian indicators like % of stocks above 50 DMA , 200 DMA have been at over 90% ( vs 40-60% normal rate), low VIX and low cash levels of 3.5% by funds. 
Technicals - S&P 500 - Fibonacci 62% retracement level at 1215 has proven to be a great resistance and next support could be a 50% retracement level of 1111.Technically 20 DMA is at 1182, 50 DMA at 1140 and 200 DMA at 1075. .A 10% correction could lead us to 1084 nearing its 200 DMA. I would see this as a target for bears and expect some support at this level. ( We have already seen a trailer of this - an 8% correction from 1150 to 1056 ( from 19th Jan`10 to 8th Feb`10 ) and this was also when both 20 & 50 DMA supports were broken without much effort)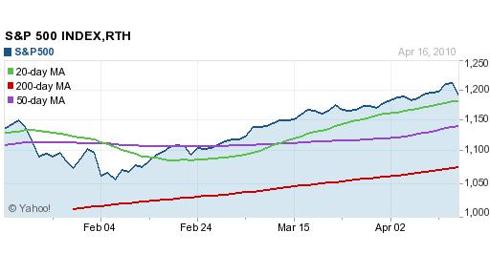 Sovereign debt issues - also would be hydra headed monster showing its ugly head every now and then. Negative news like Greece spillover into other countries like UK and even US.
China US trade war scenario - could also impact commodities and stocks. Chinese stock market which led the world with its rally has been very rangebound and Chinese Shanghai Composite index is down 6% from its peak of 3340 in Jan`10.
Historically SEC`s bark has been more than its bite and this looks like a lame attempt to shore up some credibility.What about other players - the rating agencies -S&P & Moody`s ?
Goldman could fight the case for months , years and eventually win it but by then the damage would already have been done.
But my take is the entire system has been just too dumb for too long. How can one expect any company with its proprietory trading to serve its customers well in a fair manner?
This structure will inherently will have a conflcit of interest. Just like in subprime- along with securitisation, banks have no incentive to bother about quality of loans as long as its selling it off its books.
Disclosure:
None.