The Coppock Indicator was specifically designed as a signal to indicate a very likely safe and profitable buy after a significant downturn in markets. The signal occurs when the month end indicator turns up from below zero. See http://en.wikipedia.org/wiki/Coppock_curve

As at 13 or 14 January as well as at 31 December the Coppock is still trending down in S&P 500, Nasdaq 100, UK FTSE 100, Japan Nikkei 225, Chinese Shanghai Composite and Australian All Ordinaries, however it is not below zero for S&P 500, Nasdaq or UK FTSE, although close to negative for UK FTSE and falling very fast for NASDAQ.

I have also looked at a modified (170,150,20) MACD (Moving Average Convergence and Divergence) more suitable for divining long term trends using Incredible Charts free version. See http://en.wikipedia.org/wiki/MACD

My MACD indicates that there are clear BUYS for S&P 500 and UK FTSE (in local currencies).

Using my MACD for USD denominated similar instruments it indicates a clear BUY for the FXI, the US listed MSCI ETF for China and hints at probable emerging buy signals for EWA (Australia), EWU (NASDAQ:UK) and (NYSEARCA:EWJ) Japan.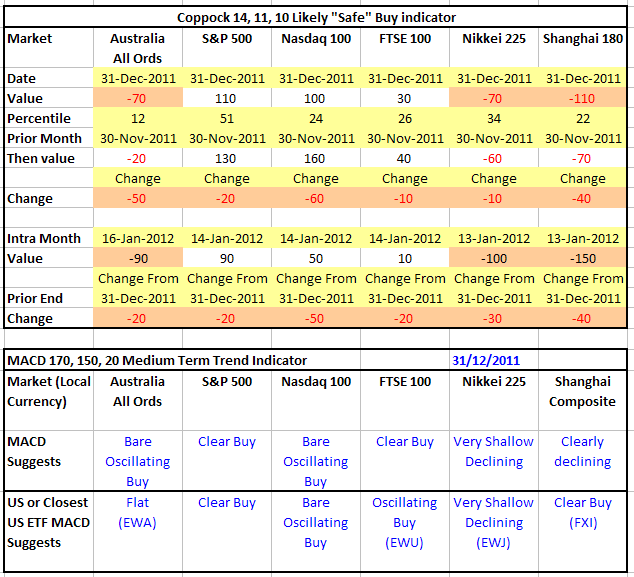 Coppock is always late but for the Australian All Ordinaries it has been a good signal 13 of the last 15 times with an average 24 monthly return of over 20% so it is useful for market timing BUYs. See http://thortsoninvesting.blogspot.com/2011/12/coppock-bottom-picking-performance.html

For those who trust Coppock start looking to BUY stocks which have given a favourable Coppock signal, particularly in markets as they also generate a Coppock BUY signal as a whole.

While the fundamentals for Europe look appalling on current German and ECB policy settings, that could change very quickly.

For the Australian All Ords, a fall of over 6% in the first month after a buy has reliably indicated a False Coppock signal.


Disclosure: I have no positions in any stocks mentioned, and no plans to initiate any positions within the next 72 hours.