With a decision pending in the Black Swan case, Odyssey Marine (NASDAQ:OMEX) is about to be in focus yet again. In reviewing legal filings, the conclusion of Odyssey's response sticks out:
Under Spanish law, when a vessel and/or property "ceases to exist," by sinking or other loss, the rights to that vessel and property also cease to exist. (Doc.138-89 ¶10, at 10-11.) In the interest of comity, this Court is certainly free to consider the law of the country seeking relief. (See Stuart v. United States, 813 F.2d 243, 251 (9th Cir. 1987), rev'd on other grounds, 489 U.S. 353 (1989); Fed. Rule Civ. P. 44.1.) Under Spanish law, Spain would be entitled to nothing in this case. Link
Is US law going to give Spain the rights to property which they neither found nor recovered? Its hard to tell, but doesn't seem possible... intuitively. With the Aqua Log case in mind, handicapping the likelihood of a 757 full of coins going back to Spain seems pretty easy. No chance.

On a side note, with the Yuzhmorgeologiya (Russian ship) on its way to find the Gairsoppa... a significant find could be on the horizon.  If estimates are correct, OMEX's take of the $260M of silver on board would roughly be equivalent to their current market cap. 
 
Legal Filings:

August 9, 2010
Claimants Santiago de Alvear, et al. Reply to Spain's Response

August 19, 2010
Odyssey's Appellate Reply to Spain's Response

Keith Bray seems to think things look good: 
Odyssey Marine Exploration, Inc., Keith Bray vs The - Eleventh Circuit
 
For more info on the Black Swan recovery, its well checking out the DVD set of The Discovery Channel's Treasure Quest.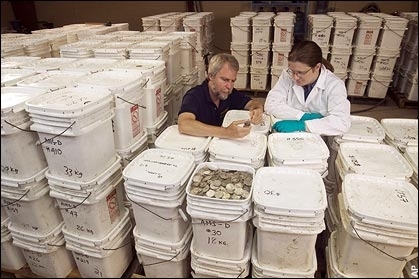 Disclosure:
I am long
OMEX
.