September 18, 2012 (By Frank Kollar)
Shares of the widely traded gold ETF SPDR Gold Shares (NYSE: GLD) are approaching very strong resistance that will make or break the current gold rally.
Back on February 28th, 2012, Gold Shares touched $174 a share intra-day, promptly reversed and began a steep correction.
Back on November 8th, 2011, Gold Shares reached $175.46 intra-day and the next day began a correction that knocked some $25 a share off its price in just two months.
In fact the highest Gold Shares has ever been is at $185.85 intra-day, at the height of the gold rally back in September 2011, and immediately after reaching this high plunged into a powerful decline.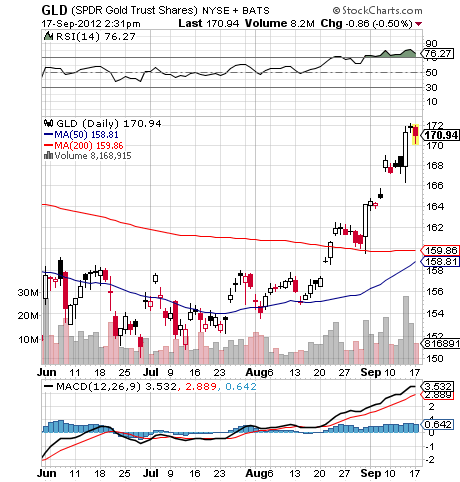 Chart Courtesy of StockCharts.com
Today, September 17th, Gold Shares is near $171.00 near the close. Without doubt Gold Shares has a great deal to overcome in coming weeks. The highest level it has ever reached and three rally highs over the past year that all failed rather spectacularly and all at just above current levels.
We will be watching the $175 level for a reversal. And even if it is surpassed, there could be a reversal near the $180 level.
We would be very careful about considering any bearish positions. The sector is too volatile and a single day could be costly. But we advise being careful in entering bullish positions and it may be time to tighten up stops.
If Gold Shares makes a decisive close above these resistance levels, we could have the real thing. A new bull rally in gold bullion and also in Gold Shares. If not, we could have another leg down.
The Fibtimer.com (http://www.fibtimer.com) ETF Timing Strategy does not have a position in Gold Shares.