October 19, 2012 (By Frank Kollar)
Shares of Fedex Corp (NYSE: FDX) have been on fire over the past several weeks. Can the rally continue?
Last week Fedex announced a restructuring plan that investors had been expecting. But they had not been expecting the improvement in profits the company expects by year 2016. 1.7 billion announced vs around 1 billion expected.
Shares have been in rally mode and the announcement just kept the rally going. The question is how much higher can they go?
Fedex was trading around $93.50 at the time this report was written. There is strong resistance around $96 a share and then highs that go back to 2008 are at the $100 level.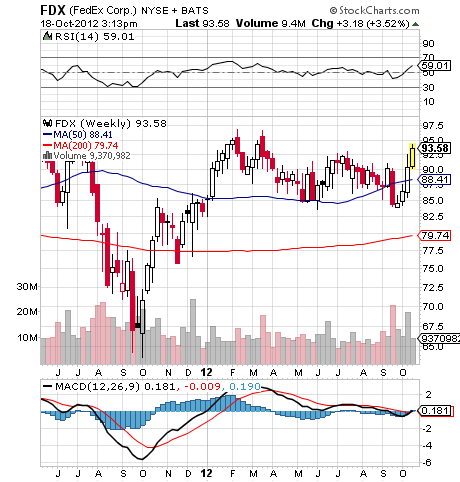 Chart Courtesy of StockCharts.com
A buy now should see $96 a share to $100 a share, but after that it will depend on what investors think the long-term future holds. If they believe in the new restructuring, the stock could breakout above $100 a share.
If it does, there could be considerably higher highs ahead.
The Fibtimer.com (http://www.fibtimer.com) Stock Timing Strategy does not have a position in Fedex Corp.
Disclosure: I have no positions in any stocks mentioned, and no plans to initiate any positions within the next 72 hours.