November 28, 2012 (by Frank Kollar)
Shares of Ebay Inc (NASDAQ: EBAY) have jumped to new 2012 highs after a two week rally on top of a gain of 70% already for this year.
The rally began after Fitch Ratings affirmed eBay's 'A' outlook. The ratings and outlook reflect the company's leading e-commerce platform; its strong position in on-line payments as well as the significant potential growth opportunities for that business both on- and off-line; its significant and consistent free cash flow generation; and its relatively conservative balance sheet management.
Ebay reached an all-time high back in early 2005 at about $59 a share. Could this level be reached or surpassed in coming weeks?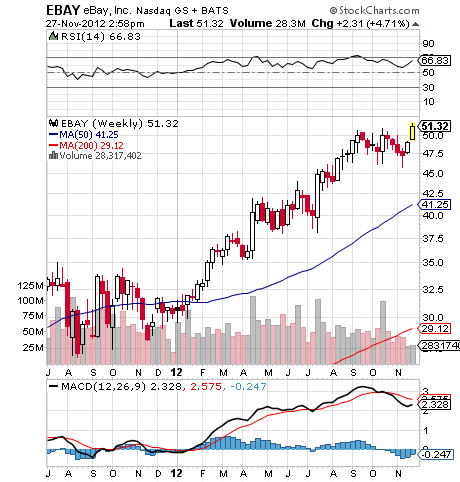 Chart Courtesy of StockCharts.com
We would bet on the bullish side for this stock, but doing so with a sell stop around $48 a share. This is near where the current rally started and if the gains of the past two weeks were to evaporate, we would not want to own the stock.
As the stock gains ground, a trailing stop near 6% would be appropriate.
The Fibtimer.com (http://www.fibtimer.com) Stock Timing Strategy does not currently have a position in the Ebay Inc.
Disclosure: I have no positions in any stocks mentioned, and no plans to initiate any positions within the next 72 hours.